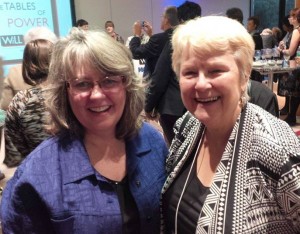 OLYMPIA – Rep. Gael Tarleton (D-Ballard) was selected as a 2015 WiLL Pacesetter and honored during a national conference, "Women at the Tables of Power," sponsored by the Women Legislators' Lobby (WiLL) of Women's Action for New Directions (WAND), in Washington, D.C., on October 5.
WiLL Pacesetters are recognized for their noteworthy legislative service, their contributions to sound, progressive policy, and their groundbreaking leadership in their respective states. Tarleton was chosen for her commitment to excellence and a resolve that the voices of women of all races and stations in life are fully and fairly represented in shaping public policy.
"It's an honor to be selected alongside this amazing group of women who are all doing great work for their communities," said Tarleton. "Washington state has been a leader on women's rights, but we still have work to do. Paid sick and safe leave, income inequality, pay equity, health care – these are just a handful of issues we need to address to ensure we have an economy that works for everyone."
The Pacesetter Award was presented to Tarleton at a Capitol Hill reception by Georgia Senator Nan Orrock, president of WiLL.
"WiLL is very pleased to recognize the leadership and stellar service of Rep. Tarleton," said Orrock. "We know that it is often strong women leaders who can bring people together to find solutions to move us forward."
Congresswoman Jan Schakowsky (IL-9) was also honored at the reception with the 2015 Torchbearer Award for her stellar public service and demonstrated commitment to building a more secure world and gave the keynote address.
Women Legislators' Lobby and Women's Action for New Directions encourage women to seek office, and provide them with vital tools and information to be successful. The 2015 WiLL/WAND Women's Leadership conference engaged more than 150 women state legislators and community leaders to convene with Members of Congress and policy experts for networking, policy briefings, and strategizing for national budget priorities that revitalize the U.S. economy as well as international policies that protect women and girls worldwide.
---