Recently I had the opportunity to visit the Planned Parenthood office in Lynnwood and learn more about the services they provide to men and women in the 32nd District and across the state.
Although Planned Parenthood is best known for making sure women across the country can access safe, legal abortions, these services make up only a small fraction, about 3%, of what Planned Parenthood does. The main focus of the Lynnwood clinic and of Planned Parenthood offices around the country is providing affordable, high-quality reproductive health care.
In 2013 alone, the Lynnwood clinic saw over 4,000 patients. The clinic provided these men and women with health care services ranging from birth control to cancer screenings, from STD testing and treatment to annual exams for women. Many of the patients likely also took advantage of the physical exams, smoking cessation programs, screening for high blood pressure and diabetes, and other general health care services that Planned Parenthood provides for patients who do not regularly see a primary care provider.
Planned Parenthood helps women and men, young and old, to make decisions about childbearing. This includes providing accurate information about sexual health and reproductive choices and making sure that the choices a woman makes about her health care aren't limited by finances or lack of access to a full range of services. It is critical that the funding and support for these valuable services be continued.
Best regards, Ruth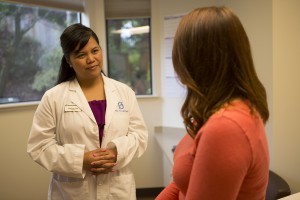 The following is a story from one of the many patients who rely on Planned Parenthood in the 32nd Legislative District. The patient, a woman from Lynnwood, first visited Planned Parenthood two years ago, seeking out birth control and information about reproductive health. In her own words:
"I had my appointment and the staff were very nice and informed me about the different options Planned Parenthood has and gave me some pamphlets about how my body works, how birth control works, the different payment options, and maintaining healthy relationships. She asked me about my health and about my family life, which stood out because no other health care provider has asked me about that before.
Planned Parenthood has made me feel more secure and independent as I grow up. They educated me a lot and helped me learn more about my own health and the options that there are and how they work. They have made me feel more safe and comfortable.  Without them I would not have known what to do. They have helped a lot with preventing accidents.
I don't think it's ok at all for politicians to restrict access to care. Planned Parenthood offers so many things that are beneficial and helpful for young women and low-income women, and it affects other people too. It's important to keep Planned Parenthood open and have these resources available for women, men, and teens. I really don't know where I would get my health care if Planned Parenthood wasn't around. It's a scary thought. I really don't know."
---