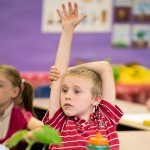 This week marks American Education Week, and I have chosen to honor this time by reflecting on the importance of education in the lives of ALL of us. Education in all forms, and at all stages of life, contributes to the common good in countless tangible and intangible ways.
And because of this, ensuring equal access to public education for all of our people remains of the utmost importance.
Over the course of the week, education associations around the country will be honoring parents, education professionals, substitute teachers and support staff in various forms.
Moving forward, we must acknowledge the universal importance of education and work together to find solutions to the challenges of today and tomorrow.
---