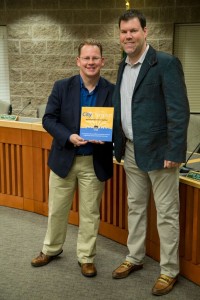 Olympia, WA – The Association of Washington Cities (AWC), an Olympia-based organization advocating on behalf of Washington's 281 cities and towns, is honoring Representative Chris Reykdal (D-Tumwater) with a City Champion award.
Reykdal, one of six legislators designated as a City Champion, is recognized for his work during the recent legislative session to organize and lead a bipartisan caucus of members in the House of Representatives.
Victoria Lincoln, AWC Government Relations Advocate, said the city relationship with the state started to fray during the recession. "Revenues that the state had shared with cities since the end of prohibition were diverted to the state's operating budget," she said. "And funds for important infrastructure programs were diverted as well."
Reykdal worked with another member of the House of Representatives to establish and lead a bipartisan caucus called the Local Government Champions Caucus. In recognition of the fact the legislature had diverted important city revenues in previous biennia, this caucus focused on local government issues and common-ground solutions to help cities and counties thrive.
AWC Chief Executive Officer Peter B. King noted that the 2015 legislative session was the longest in state history, yet cities saw signs of a renewed city-state partnership. "We believe our success was the result of our champions in the Legislature who stepped up to help cities," said King.
"I am happy to present this award to Rep. Reykdal," said Lacey Mayor Andy Ryder. "As chair of the Local Government Champions Caucus, he rallied to promote the interests and needs of cities across the state."
"Cities and towns are the hearts of our communities," said Rep. Chris Reykdal (D-Tumwater). "They keep our neighborhoods safe, help small businesses thrive, and maintain critical infrastructure – all to ensure Washington remains an attractive place to live and work. My sincere thanks to AWC for recognizing me a City Champion. I am committed to supporting policies in the Legislature that help cities and towns be successful."
AWC serves its members through advocacy, education and services. Founded in 1933, AWC is a private, non-profit, non-partisan corporation that represents Washington's cities and towns before the state legislature, the state executive branch, and with regulatory agencies.
Reykdal received his award on November 19. In addition to the six City Champions, AWC is recognizing eight legislators and the Governor as Transportation Champions for their efforts to enact a transportation package that provides tools and benefits to cities.
---