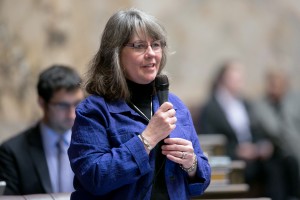 OLYMPIA – Rep. Gael Tarleton (D-Ballard) was elected Majority Floor Leader of the state House of Representatives by her colleagues in Olympia today.
Tarleton joins the House leadership team mid-way through her second term as a state representative from the 36th legislative district.
"I'm proud of the work I've been able to accomplish for my community and the state of Washington," said Tarleton. "In just a few short years, we've improved public health, expanded access to higher education, and built more secure communities. But there's still work to do to ensure we provide opportunity for all and build a strong middle class through continued investments in education and the creation of family-wage jobs in all corners of the state. I'm looking forward to serving the people of Washington in this new leadership role."
The Majority Floor Leader is primarily responsible for coordinating the floor debate and the passage of bills during the legislative session.
Tarleton will continue to serve as the vice chair of the House Technology & Economic Development Committee as well as a member of the House Transportation and Rules Committees.
The 2016 legislative session, slated to last 60 days, begins January 11.
###
---