WASHINGTON D.C. – Last week, education leaders from around the country came together at the White House State Education Leaders Convening to discuss education, from early learning to K-12 and higher education. The discussion focused on work that is being done in several states to help all students succeed. Rep. Kagi, D-Seattle, was invited to speak about Washington state's efforts to improve the access and quality of early learning opportunities across the state.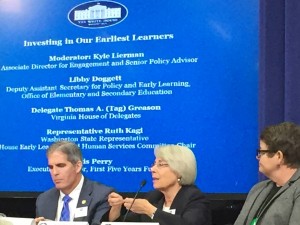 The inclusion of early learning as a topic at the Education Leaders Convening reflects the increasing recognition of the importance of early learning in preparing young children for success in school. Washington State's successful passage of legislation to improve the quality of early learning in both child care and pre-schools is of great interest to public policy makers across the nation.
"Being invited to speak with state and federal education leaders and senior white house officials about our early learning policies is evidence of Washington's leadership role in early learning in the country," said Rep. Kagi. "It was a great honor to represent Washington state, and share the story of our bi-partisan effort to assure children have the skills to succeed when they enter kindergarten."
The Early Start Act, passed during the 2015 legislative session, will give more young people the opportunity to access effective, high-quality early learning programs. The policies in the Early Start Act are guided by proven brain science and the positive long-term impact quality early learning has on a child's school readiness, overall health and life.
"Early learning is one of the best methods we have for closing the opportunity gap and making sure that every child has the chance to succeed," said Rep. Kagi. "I am incredibly proud of Washington's early learning professionals, advocates, and legislators for coming together to prioritize investing in our youngest children."
---