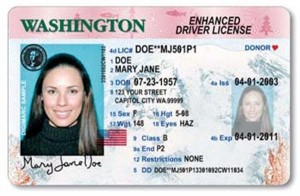 ***Update***
On January 8, the Department of Homeland Security and TSA announced it will extend the REAL ID compliance deadline to January 22, 2018. This means Washington residents will be able to use their standard driver's licenses for air travel. Click here for more details.
Original post
There has been some confusion about the federal REAL ID Act and what it means for Washington residents. I hope this clears up some of the confusion for you.
Washington is among 24 states that have been operating with a REAL ID compliance extension because our regular driver licenses and ID cards do not meet all 41 different REAL ID requirements. This means Washington is subject to the  Department of Homeland Security compliance schedule for REAL ID requirements, and that identification enforcements at commercial airports could begin any time after December 31, 2015.
It is important to note that there will be four months between the announcement of the identification requirements change and the date of enforcement. The DHS has been unclear on specific dates, indicating that they will announce "the timing and nature" of enforcement for commercial airlines in the near future.
This means that until an announcement has been made, and for a brief grace period after, you may continue to use your regular Washington driver's license to board commercial aircraft within the US.
After this time period, if you continue to use your driver's license as identification at the airport, you will need to present a secondary form of ID, such as:
military ID
tribal ID
passport or foreign government issued passport
trusted traveler card such as a NEXUS card
If your license is set to expire in the near future, I would encourage you to consider applying for an enhanced driver's license – which has the added benefit of being a valid document for select international travel, including to Canada, Mexico, and the Caribbean.
The Department of Licensing's website has additional information this issue.
---