Session is Underway

The 2016 legislative session is officially underway and moving fast. Like last year, I will be serving on the Finance, Health Care and Wellness, and Community Development, Housing and Tribal Affairs committees. In addition, I was appointed to the House Appropriations Committee which considers the operating budget bill and related legislation, and was also appointed Vice Chair of the Finance Committee.
Although the session is a short 60 days, we have a lot work to do. We need to meet the most urgent needs of our state and focus on the basics – having hope, health and a home.
Addressing Homelessness in Snohomish County
In partnership with the City of Everett and Mayor Ray Stephenson, Senator John McCoy and I have been working to sponsor a $2 million capital budget request for low-barrier housing to address the growing homelessness crisis in Everett. Ultimately, the housing project will produce several units to house individuals experiencing chronic homelessness. Recently The Everett Herald has run several stories on the matter, including an editorial in support of the project.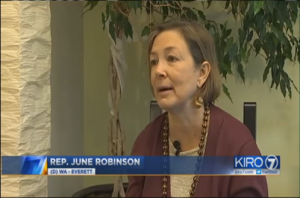 Another piece of legislation that I am working on is a bill that will address eviction reporting. Right now, as soon as landlords file for eviction against a tenant, that eviction goes on their record and stays there. It stays there even if the landlord loses in court or if the tenant is falsely or mistakenly named in an eviction, which makes it incredibly hard for the tenant to find future housing. KIRO 7 recently did a story on the bill and showed just how damaging these wrongful eviction filings can be.
Protecting the Quality of Your Health Care
The healthcare industry is changing faster than many of us can keep up with. Often these changes create a gap in information which is why I sponsored House Bill 2445, which helps the Office of the Insurance Commissioner gain an understanding of who decides what benefits you get in your insurance plan. Currently, we don't have much information about the benefit managers that make these decisions. This bill will require benefit managers to provide basic information to the Office of the Insurance Commissioner so we know who the people are that decide what your health care looks like. In this fluid, ever-changing industry it is important to look out for you, the consumer. I am here to do just that.
You're Invited: Telephone Town Hall!
Please join me, Senator John McCoy and Representative Mike Sells for a telephone town hall on Tuesday, January 19 at 6:00pm! Many of you will get a call from us at 6:00pm. If you don't receive a call and would like to participate, please join us by dialing 877-229-8493 and entering the following ID Code: 18646.
---