The Civil Rights Battle in 2016
Our nation celebrated the life and legacy of Dr. Martin Luther King, Jr. this week.
I spoke about King and his legacy on the House Floor on Monday.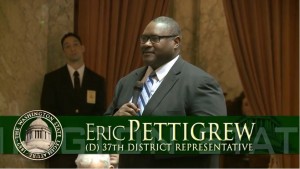 But just remembering him isn't what Dr. King would want us to do. Instead of talking about the past, he'd want us to continue the fight for equality and justice.
All students have a right to an education. Yet 60 years after Brown vs. Board of Education, our kids are not receiving an equal education.
We need to make sure that each and every child in Washington has the chance at a great education and the opportunity to succeed.
This excellent article from the Seattle Times highlights one of the many structural problems involving racial disparity within our public education system. Black students and Hispanic students are far more likely to be disciplined than white students.
Unequal discipline practices within our public schools are just one of several problems contributing to inequality in education in Washington state.
The Supreme Court's recent decision to invalidate the charter school law dealt yet another blow to students and families who are not being served by traditional public schools. Charter schools represent a door to success for many minority and low-income students and I am working on solutions to keep this door open.
Whether a student graduates from high school, attends college or achieves future success should not depend on the color of their skin or their zip code. This is the civil rights fight of today's generation. We must close the educational opportunity gap.
Visiting the legislature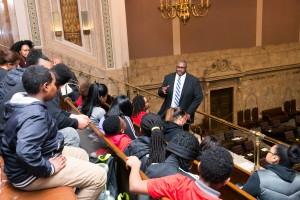 Many people had Monday off of school or work in remembrance of Dr. Martin Luther King Jr. But the Legislature is still in session and I had the great pleasure of meeting with people who use their day off as a day of action and come to Olympia to visit with their legislators.
This year I spoke with young people from SE Seattle PEACE Coalition/206 Rising. Most of them attend Aki Kurose. For the last few years I have successfully advocated for Aki Kurose to receive urban school turn around money. These students came to Olympia to learn more about the legislative process and how they can get involved with their government.
Increasing voter access
Coming to Olympia isn't the only way to get involved in your government. One of the most fundamental ways to have your voice heard is by casting a vote. I am proud to support two bills that were introduced this year to increase the voter participation in Washington.
One good predictor of whether someone will vote is to look and see if they have voted in the past. So to increase the number of young people who form the habit of voting early on, I am co-sponsoring House Bill 2707 to allow 17-year-olds to preregister to vote when they get their driver's license. The teens would not be registered and eligible to vote until their 18th birthday. Many of us take advantage of motor voter registration, easily registering or updating our registration while renewing our driver's licenses. By not giving 17-year-olds this same advantage, we are missing a great opportunity to engage young people in their democracy.
Another bill I am co-sponsoring, House Bill 2682, would automatically register people to vote when they get or renew a driver's license, get health benefits through the health benefit exchange or get services from the state. People could opt-out if they do not want to register to vote.
I strongly support increasing voter turnout so we can make sure that democracy represents people, not corporate interests.
---