OLYMPIA – On the day after the Washington House of Representatives Higher Education Committee held a hearing on the legislation to protect students of for-profit colleges from deceptive claims and outrageous student loan debts, the Federal Trade Commission filed a federal lawsuit against giant private DeVry University for engaging in many of the practices HB 1949 would bar in Washington.
At the hearing on Tuesday, January 26, 2016, legislators heard from a former DeVry University student, Andrew Brittell, who had no degree to show for his $90,000 in student loans taken out to fund his college at DeVry. Brittell testified about how DeVry recruitment representatives' claims about the school's programs and acceptance were misleading.
"For-profit colleges have victimized thousands of students in our state with outrageous tuition, misrepresentations, outrageously high loan rates and unbearable student loan debts," said Representative Gerry Pollet, prime sponsor of HB 1949. "The Legislature needs to act quickly to adopt student consumer protections."
The Federal Trade Commission (FTC) filed a federal lawsuit (click here for relevant excerpts) less than 24 hours after the House hearing on HB 1949 documenting many of the types of false claims and misrepresentations by DeVry University which the legislation would stop in Washington.
HB 1949 would put an end to false claims by for-profit colleges and vocational schools about post- graduation employment rates and pay expectations; create a new Ombuds for students to take complaints to; and, violations would allow the Attorney General to take action under the Consumer Protection Act.
The FTC lawsuit documents that DeVry charges approximately $40,000 for an associate degree and over $75,000 for a four year business bachelor's degree (which would cost $8,000 at a Washington State community college and $40,000 at a regional university) and recruited students with extensive ad campaigns and one on one recruitment meetings in which DeVry represented that, "as a result of obtaining a DVU degree, 90% of DVU graduates who were actively seeking employment landed or obtained new jobs in their field of study within six months of graduation. These representations (Defendants' "90% claims") are false and unsubstantiated."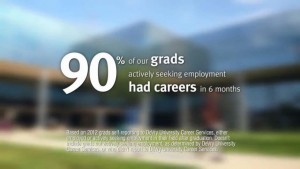 The FTC also documented that DeVry regularly advertised and recruited students to pay its high tuition and take out billions of dollars in student loans by falsely claiming that "one year after graduation, DVU graduates with bachelor's degrees earned 15% more than graduates with bachelor's degrees from all other colleges and universities."
(Click on the photo for excerpts from the FTC lawsuit against DeVry)
HB 1949, which is slated for its first vote on Friday, January 29, 2016 in the Higher Education Committee, would bar for-profit schools from making such claims on-line or in recruitment meetings. In the future, all claims regarding employment, wages, or loan default rates would have to use the same methodology as used by the state's Workforce Training and Education Board for its "Career Bridge."
"Washington's community and technical colleges offer excellent programs at far lower costs than most of the for-profit colleges," said Rep. Pollet. "If students get to see an apple to apple comparison of post-graduation job placement, average wages and loan default rates, checked by the state, students will make better choices and avoid going deep into debt for programs that are much more expensive than community colleges with fewer prospects for improving the students' lives. I thank the Washington Federation of Private Career Schools and Colleges for being willing to ensure that disclosures will now be made on a level playing ground."
Last year, the federal Consumer Finance Protection Bureau and California filed lawsuits against Corinthian Colleges, which had thousands of students in Washington before it began closing campuses as a result of federal student consumer protection actions. The federal and multi-state litigation against Corinthian documented that the massive private college targeted potential students who had little or no understanding of loans, and sold its own student loans with rates as high as 15%, with interest and payments beginning while the students were still enrolled.
HB 1949 would be the first state legislation in the nation to bar for-profit colleges from engaging in selling student loans in which the private college has a financial self-interest.
---