Ben Franklin Elementary Students at the Capitol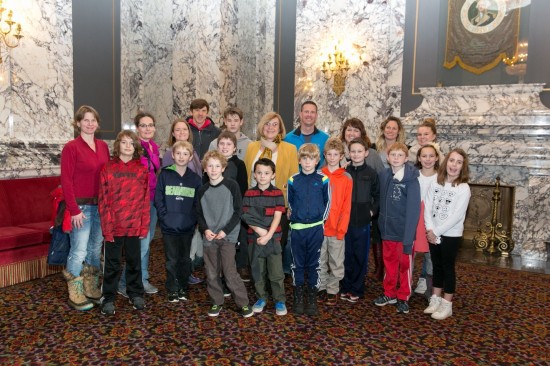 On Friday, January 29, I had the honor of spending a little while with 5th graders from Ben Franklin Elementary School in Vancouver. We met at the big State Reception Room where they told me about some of the things they're doing in school, and I even had the chance to answer questions they had about civic involvement.
Photo courtesy of Washington Legislative Support Services
Education WINS in WA House of Representatives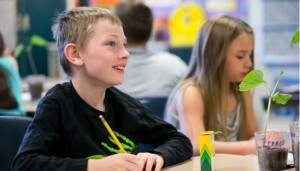 This session we've had a great start for education in Washington state. Your House of Representatives voted to achieve excellence in our schools and give our 1 million kids in public schools greater opportunities to learn. Among the bills we approved:
These votes are steps in the right direction toward reaching our goals and ensuring our education system is fully funded.
I was proud to vote for these measures. Sadly, the fate of these bills is unknown in the Republican-controlled Senate.
What's up this week?
This will be a busy week, as you can see below we will be tackling some big issues. Remember you can follow all Floor action on TVW.
Senior Citizen and Veteran Property Exemptions
Seniors and veterans shouldn't have to struggle to pay their property taxes. So I introduced House Bill 2759 to provide property tax relief to senior citizens, disabled persons and veterans. It also establishes a mechanism for adjusting income thresholds in the future.
One of the most critical reasons that seniors struggle is sudden medical costs that break their budget. We adjusted upwards the threshold for property tax assistance last year after more than a decade. This year I am working to allow more struggling veterans, seniors and disabled homeowners to qualify for the exemption by adding medical costs as a deduction. My bill will also account for the differences in property value and income between counties, making our program more equitable.
It's time to treat substance abuse like a disease
Like too many in our community, I known someone who has been impacted by a substance use disorder. Hooked on drugs or fighting with alcoholism, these people are family members, friends, community members – all who have fallen into a cycle that is hard to escape. One of the reasons it's hard to recover is because the state treats these patients differently.
If you're suffering from a mental health disorder or crisis and are an immediate danger to yourself or others, you can be involuntarily committed and required to receive treatment. This is a commonsense approach to an immediate problem and it saves lives. But if you're addicted to drugs or alcohol, the same standards don't apply.
That's why I am supporting Ricky's Law, HB 1713, which would align our values and treat those suffering from addiction and those suffering from mental health disorders the same. If someone is a danger to themselves or others, it shouldn't matter why. The law should treat them the same and allow medical professionals to get them the care they need.
Watch my Videos
I've done one Legislative Update and two Ask Sharon videos so far this session, you can find them here. And please continue sending me your questions, ideas or feedback via email.
Sincerely,

---