OLYMPIA – The state House of Representatives has approved another round of education bills, with today's efforts focusing on getting more kids signed up for College Bound, improving outcomes for homeless students, and helping families save money for kids with disabilities.
HB 1236 would give students another path to college when they can't obtain a parent's signature for College Bound scholarships. The bill would allow a school counselor or administrator to witness the student's pledge if a parent cannot be reached.
The bill's sponsor, Rep. Lillian Ortiz-Self (D-Mukilteo) spoke in favor of the bill on the House floor.
"This will take away barriers in the current College Bound scholarship application process," said Ortiz-Self. "We will not deny our students an opportunity for a scholarship and an opportunity for a brighter future."
With the homeless student count now over 35,000, the Legislature is considering several bills to reduce homelessness in Washington, including HB 1682 which passed today by a vote of 68-28.
"There are now over 35,000 students in Washington that do not have a secure place to sleep at night," said Rep. Jake Fey (D-Tacoma), the bill's sponsor. "This bill provides additional resources and grants to districts so they can better identify and serve homeless students. Every child in Washington deserves a place to stay at night and an opportunity to succeed in school."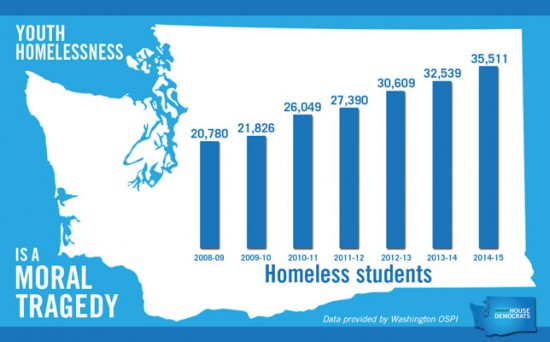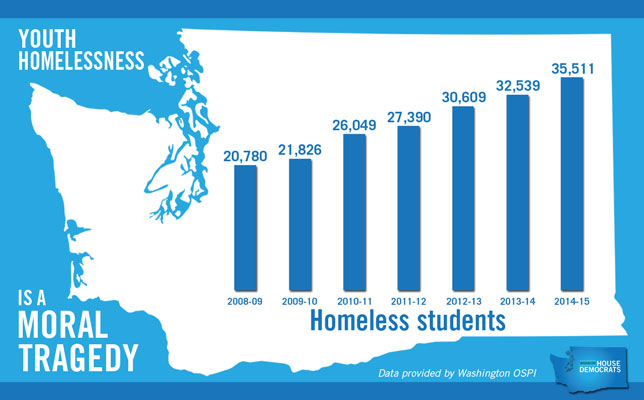 HB 2323, sponsored by Rep. Christine Kilduff (D-University Place), would help families save money for the education and care of up to 50,000 people with disabilities in Washington state.
This proposed state law would work with the federal ABLE Act to set up tax-free savings accounts, similar to college savings plans. Families could invest up to $14,000 a year in an ABLE account. Withdrawals wouldn't be taxed as long as they money is spent on housing, education, transportation, health care and related expenses for the person with disabilities.
For more on this bill, watch the powerful testimony from Emma Patterson, a 13-year-old with Down's Syndrome who has dreams of going to college and becoming an artist. (Video here.)
"People like Emma just want a chance at an education and a good life," Kilduff said. "This new law would give families a great tool to save money for their sons and daughters."
A complete list of bills approved by the House today can be found here. The bills now go to the Senate for consideration.
---