OLYMPIA – From her first day on the job, Rep. Noel Frame (D-Seattle) has said that education and mental health care are the two most important issues she wanted to work on in the legislature. By working with colleagues, talking about amendments, and crossing the aisle, she was able to pass her first two bills out of the House of Representatives with strong bipartisan support.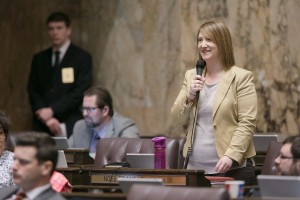 HB 2541 fixes an unintended consequence from last year's creation of outpatient treatment for individuals suffering from a mental health crisis but don't meet the requirements for involuntary commitment. The legislature created outpatient treatment as a less restrictive alternative, but the law required hospitals to design the treatment plans, instead of the community mental health provider. HB 2541 corrects that error, allowing community providers to make plans for the patients for which they are responsible and allows individuals to manage their mental health crisis surrounded by friends and family.
HB 2851 addresses the problem of effectively recruiting and retaining quality school board directors. Too often our school districts face challenges retaining quality school board directors because they have financial obligations or constraints and school boards don't have the option to raise compensation. Large districts especially have difficulty due to the complexity and size of the districts and time commitment required of board directors. HB 2851 gives districts the option to set compensation to the level of half the base level salary of a teacher in that district.
"These bills are both necessary first steps I am taking to make sure we improve our schools and our mental health system all across Washington state," said Frame. "I am thrilled they both passed off the floor with bipartisan support and I look forward to continuing my conversations on both sides of the aisle to move our state forward."
###
---