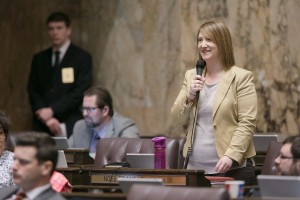 Hello! We're halfway through the "short session" and House Democrats have sent quite a few bills over to the Senate for their consideration, including several bills I sponsored focusing on education and mental health care in our state. Others included improving voting rights in disenfranchised communities, equal pay for women, and closing the educational opportunity gap.
Voting Rights, education, and equal pay
I had a few minutes in between votes on the floor of the House, so I ran out to the rotunda and shot this short video to tell you about some of the bills we've passed. Please watch to find out about work we've done on the state Voting Rights Act, Equal Pay, accommodations for pregnant workers, and more.
---
Education & mental health care
From my first day on the job I have said that education and mental health care are the two most important issues I wanted to work on as a state representative. That's why I introduced two bills that addressed these issues, with small but important steps in the right direction to improving education and mental health care in Washington. I worked with colleagues on both sides of the aisle to secure strong, bipartisan support for my bills and am proud both passed the House this week.
HB 2541 (passed the House 97-0) fixes an unintended consequence from last year's creation of less restrictive treatment options in the mental health care system. For individuals suffering from a mental health crisis (but don't meet the requirements for involuntary commitment), outpatient treatment can be a lifesaver. But outpatient treatment plans are currently designed by the hospitals, when really it should be the community mental health provider overseeing treatment. My bill corrects that error and allows individuals to manage their mental health crisis surrounded by friends and family.
HB 2851 (passed the House 60-36) addresses the problem of effectively recruiting and retaining quality school board directors. Too often our school districts face challenges retaining quality school board directors because they have financial obligations or constraints and school boards don't have the option to raise compensation. Large districts especially have difficulty due to the complexity and size of the districts and time commitment required of board directors. HB 2851 gives districts the option to set compensation to the level of half the base level salary of a teacher in that district.
Town hall meeting on February 20th
I'll be joining my seatmates, Representative Gael Tarleton and Senator Reuven Carlyle, from 10:00am until noon for an in-district town hall meeting. We'll be at the Belltown Community Center at 415 Bell Street, Seattle, WA 98121. Please join us as we update you on what we've been working on in the legislature this year.
I hope this information has been helpful in keeping up to date on what is happening in your state government. If you have any questions or comments, please call me at (360) 786-7814 or send me an email at Noel.Frame@leg.wa.gov.
Thanks,
Noel
---