OLYMPIA – Thousands of students in Washington and across the country have incurred massive student loan debts and been defrauded by for-profit colleges and universities using deceptive marketing practices. Today the House took action (HB 1949) designed to reign in these deceptive practices and to ensure transparency for students and their families.
"Students in Washington and across the US have been misled into accumulating massive student loan debts by misrepresentations and abusive practices of for-profit colleges," said prime sponsor Rep. Gerry Pollet. "Students in Washington deserve consumer protection, and today Washington took its first big step towards providing that protection to its residents."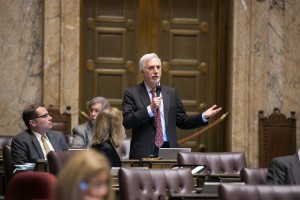 Thousands of students in Washington have been faced with for-profit schools closing programs and leaving students with debts and no meaningful choices to continue their education. The measure would provide students with an Ombud and require written disclosures of students' rights when schools close or drop programs.
When the House Higher Education Committee held its hearing on the bill, a former student of DeVry University testified that he had been encouraged to take out $90,000 in student loan debts, had no degree and found that representations made by recruiters that the credits would transfer to a public college were false. The very next day, the Federal Trade Commission filed suit against DeVry for such false representations.
The bill requires consistent reporting from for-profit schools so prospective students can compare data given by these institutions with the community and technical colleges around the state. This transparency will allow students and their families to make informed decisions about where to go school and spend their money.
"This is about fairness and honest business practices," said Rep. Pollet. "If passed, this bill would become the first of its kind in the nation to address the excesses of the for-profit college industry."
The FTC also documented that DeVry regularly advertised and recruited students to pay its high tuition and take out billions of dollars in student loans by falsely claiming that "one year after graduation, DVU graduates with bachelor's degrees earned 15% more than graduates with bachelor's degrees from all other colleges and universities."
HB 1949 would bar for-profit schools from making such claims on-line or in recruitment meetings. In the future, all claims regarding employment, wages, or loan default rates would have to use the same methodology as used by the state's Workforce Training and Education Board for its "Career Bridge."
"Washington's community and technical colleges offer excellent programs at far lower costs than most of the for-profit colleges," said Rep. Pollet. "If students get to see an apple to apple comparison of post-graduation job placement, average wages and loan default rates, checked by the state, students will make better choices and avoid going deep into debt for programs that are much more expensive than community colleges with fewer prospects for improving the students' lives. I thank the Washington Federation of Private Career Schools and Colleges for being willing to ensure that disclosures will now be made on a level playing ground."
Last year, the federal Consumer Finance Protection Bureau and California filed lawsuits against Corinthian Colleges, which had thousands of students in Washington before it began closing campuses as a result of federal student consumer protection actions. The federal and multi-state litigation against Corinthian documented that the massive private college targeted potential students who had little or no understanding of loans, and sold its own student loans with rates as high as 15%, with interest and payments beginning while the students were still enrolled.
If signed by the Governor, HB 1949 would be the first state legislation in the nation to bar for-profit colleges from engaging in selling student loans in which the private college has a financial self-interest.
The measure now move to the Senate for further consideration.
---