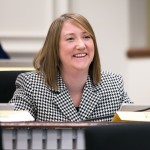 This legislative session has flown by and we're just a couple of weeks away from wrapping up. Between now and March 10 we have plenty to do, with bills to consider from the Senate and negotiating a supplemental budget. I'm still working hard to pass some of my priority legislation, including HB 2825 to help students with disabilities that passed the House since I last wrote you. I'm also working with my colleagues to make sure we leave here with significant progress in addressing some of the emergencies facing our state.
---
Video update: Education and the budget
House Democrats proposed a supplemental budget to address the growing teacher shortage crisis in our state, as well as homelessness, mental health, and the fires that devastated our state last summer. Watch my quick video below to learn more about our proposal.
---
Building a Holocaust museum in Seattle
The Holocaust was a terrible tragedy in human history and the lessons we learned need to be taught to every generation so history doesn't repeat itself. That's why I was very happy to support a $412,000 capital budget request that will help complete a permanent exhibit about the Holocaust. Visitors will be exposed to the importance of tolerance and speaking up against prejudice.
---
With only a few weeks left, it's important I hear from you now about any questions or concerns you have, or if you just want to share an idea. Please call my office at (360) 786-7814 or email me at Noel.Frame@leg.wa.gov. It's an honor to serve you.
Thanks,
Noel
---