End of session is right around the corner, but we still have plenty of work to do. We are now looking at Senate bills and are in the middle of negotiating a supplemental budget.
Safe technology use and digital citizenship
Technology has advanced so rapidly in the last few decades. Sometimes it feels like everything is happening too quickly and it's hard to catch up. This is true about the way the digital world has weaved itself into our daily lives and some of us, especially those who got a chance to grow up in an Internet-free environment, are a little wary of the online universe. But kids today don't have that buffer and may not recognize safety issues in all this new technology.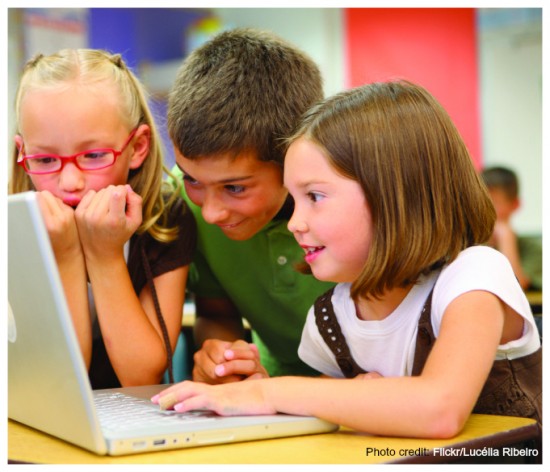 That's why Senator Marko Liias and I listened to one of our constituents from the Edmonds School District who identified a problem and saw an opportunity for change. Senator Liias and I teamed up to sponsor identical bills in the House (HB 2595) and the Senate (SB 6273) to shed light on the need for safe technology use and digital citizenship in our schools.
In a nutshell, digital citizenship is defined as norms of appropriate, responsible, and healthy behavior related to current technology use, including digital and media literacy, ethics, etiquette, and security. Digital citizenship includes the ability to access, analyze, evaluate, develop, produce, and interpret media.
I am happy to report that the Senate version of the bill passed both chambers and is now waiting to go to the Governor's office to be signed into law. The measure creates a process where students, parents, school staff and community members engage in an ongoing discussion about safe technology use, digital citizenship and internet safety.
The House Democrats proposed 2016 supplemental budget
Every legislative session gives us an opportunity to make critical investments that keep families safe and address other emergent needs like the homelessness and the teacher shortage crises.
Our budget includes funding for:
Helping the homeless, especially kids and families – There are more than 35,500 homeless students in Washington. This is a moral tragedy. Our proposal makes a number of investments in critical services to reduce homelessness, including services specifically intended for homeless students and their families.
Improving lives for foster children – All of Washington's children deserve an opportunity to succeed. We're investing in resources to improve the lives of foster kids by increasing the number of foster families in Washington.
Continuing to fix mental health care – We must make improvements to get our loved ones the care they need. This proposal will help us provide higher quality care with additional hospital staff and create safer environments for both patients and staff.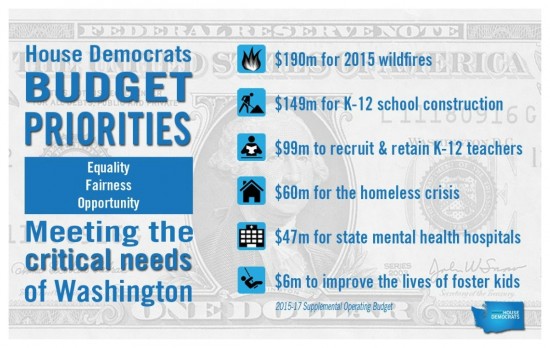 Continuing to lead the way on education funding
Fulfilling our paramount duty to the one million school kids in Washington is about more than fully funding schools.
We must have the right policies in place that ensure all students have the opportunity to learn and succeed.
Time and again, House Democrats have led the way on those policies, like expanding all-day kindergarten and reducing K-3 class sizes.

Part of fully funding education is tackling the teacher shortage crisis facing the state. We need to attract,
train and retain bright new teachers to educate our kids and keep our promise to
fully fund education by ensuring there is a quality teacher in every classroom.

The House Democratic budget proposal will help do that by:

Increasing beginning teacher salaries – It's hard to attract new teachers when the starting salary won't allow them to make their student loan payments. This investment will set the beginning teacher salary at $40,000.
Supporting classified staff and paraeducators – Schools need more than teachers to create a good learning environment for kids. This budget proposal will fund retention of quality staff throughout the school and provide professional development for paraeducators, school employees who work with students with developmental or physical disabilities.
Supporting beginning teachers – Programs to support educators in the beginning of their careers helps them to become better teachers for our kids and gives them the tools for success. This proposal invests in early career teachers so they can have long, successful careers in the field.
Paying to recruit and retain quality teachers
Washington state has fallen behind in teacher pay.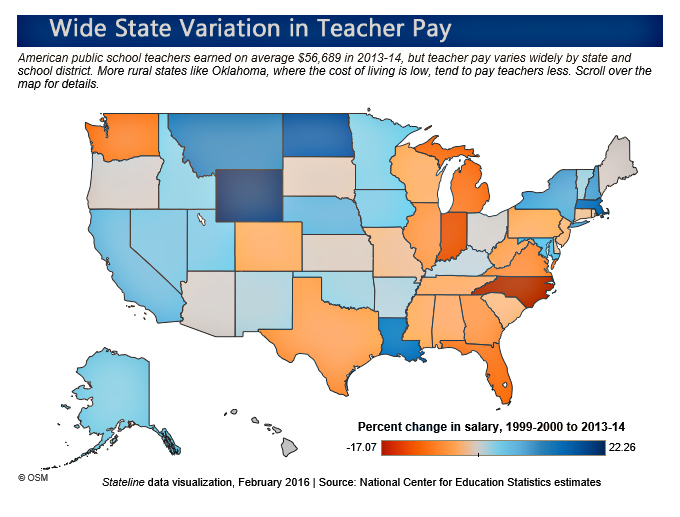 The House Democratic budget proposal plan pays for more quality teachers in classrooms across the state by closing or narrowing six tax breaks that have been used to benefit companies like big, international investment firms and out-of-state drug wholesalers.

Most of these tax breaks are ones we have proposed closing before. They are just six of the nearly 700 tax breaks on the books, many of which are outdated and no longer benefit the industries they were intended for.

One of these tax breaks excuses banks from paying certain taxes when they foreclose on a family's home.
Another gives a preferential business tax rate to investment brokers, while small business owners pay their taxes and follow the rules.

Corporations should not be able to take advantage of tax breaks that don't benefit our state while kids are waiting to get the education they deserve.

If you want more details about our plan to recruit and retain quality teachers, or specifics about the tax breaks we want to close, here is more information.
Check out my videos
During the legislative session I shoot two types of videos, a legislative update with information on the current events taking place under the Capitol dome, and my "Ask Lillian" videos where I respond to questions I receive from constituents via email or phone. If you'd like to take a look, here is my playlist.
As always, I am grateful for your taking the time to read my e-newsletter and I welcome your feedback, so don't hesitate to contact my office with your comments or ideas.
Sincerely,

---