OLYMPIA – By a unanimous vote (47-0), the Washington Senate passed Rep. Brady Walkinshaw's (D-Seattle) consumer protection measure which will provide increased transparency and oversight of continuing care retirement communities (CCRCs).
"Moving into a retirement community is one of the most important decisions that seniors make in our state as we age," said prime sponsor of the bill Rep. Brady Walkinshaw (D-Seattle).  "It's essential that we have open, transparent access to the costs and fees of these communities, and the protections under the state's Consumer Protection Act for residents."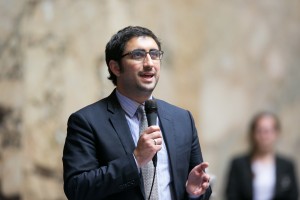 The idea of CCRCs is to be able to age in a consistent location and have access to the services that become more necessary as we enter our golden years. CCRCs offer independent living options along with assisted-living support services like home care and a nursing home all in one complex.
The legislation would affect two dozen retirement communities located around the state. While CCRCs are not a regulated entity in Washington, any assisted living component or skilled nursing component must meet state licensing standards for those types of facilities.
Rep. Walkinshaw's measure would:
Establish standards for continuing care retirement communities (CCRCs) to become certified with the Department of Social and Health Services.
Require a CCRC to provide prospective residents with a disclosure statement containing specified information about the CCRC.
Establish rights for residents of CCRCs and requirements that notice of the rights be posted in the CCRC.
"It's been a privilege working with a broad coalition of seniors in retirement communities in my district over the last year to bring this legislation forward," said Rep. Walkinshaw.
The New York Times recently covered CCRCs on February 26th, 2016. This legislation is one of the first in the country to provide these regulations to protect consumers.
The legislation, which is modeled on a bill recently passed in Connecticut, now goes to the Governor's desk for his signature.
---