Olympia – Today, the Washington State Senate passed the Certificate of Restoration of Opportunities Act (CROP), a bill developed to remove barriers to occupational licenses for qualified applicants who have a criminal history. The bill (ESHB 1553) received bipartisan support with a 49-0 vote in the Senate. CROP unanimously passed the House 97-0 on February 16, 2016, and next heads to the Gov. Jay Inslee's desk for a signature.
CROP was introduced in 2013 by Rep. Walkinshaw and he worked closely with Sen. Padden in the last year to move it forward this year to final passage to help people on the road to reentry.
"Today, Washington State takes a bold step in bringing down the employment barriers that face people who are fighting to get back on their feet, but who have convictions in their past," said Washington State Rep. Brady Walkinshaw (D-Seattle). "This legislation comes as a result of three years of building coalitions in the community and in the legislature. We have far more to do, but this is an important step."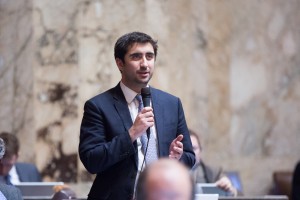 Employment is a key component of successful reentry and reduced recidivism and CROP would provide employers, housing providers, and state licensing agencies verified information about an applicant's good standing. Occupational restrictions apply to jobs as diverse as chemical dependency counselor, wreck hauler, commercial fishing, phone solicitor and barber. Overall, there are more than 90 career paths that are closed to someone because of a prior record. Many employers want to hire qualified applicants for these types of jobs, but cannot due to these restrictions.
"We have erected many barriers that keep people from successfully reentering society after they have served their sentence," said King County Prosecuting Attorney Dan Satterberg. "This certificate acts like a receipt to show the world that you have paid your debt to society and are ready to begin a productive career."
This legislation is part of a larger national movement to address the skyrocketing costs of high incarceration and recidivism rates in the United States. Washington State's prison population, like that of the entire nation, has been steadily and dramatically increasing over the past 30 years. Ten states have similar approaches to CROP that address barriers to reentry, including North Carolina, Arizona, Ohio, and New York.
"Lawmakers recognize that these type of occupational restrictions placed on people with criminal histories do not increase public safety or reduce costs, but lead to collateral consequences for individuals and difficulties for their families," says Merf Ehman, Staff Attorney with the Institutions Project at Columbia Legal Services. "At some point, they should be able to move on with their lives, earn a living, and contribute fully to our society and Washington State's economy."
Under the Walkinshaw legislation, a person would apply for this certificate in Superior Court by filing a civil motion showing that a required amount of time had passed, they had no new arrests or convictions, and had met or were meeting the terms of their sentence. The applicant must notify the prosecutor that they are seeking a certificate. If the certificate is signed by the judge, then a licensing body cannot deny someone's application for an occupational license based on criminal history alone, but the person must be otherwise qualified and suitable for the license.
Employers are not required to hire anyone with a CROP, but will be able to hire the qualified applicant of their choice. This law does not apply to sex offenders and there are special requirements and exceptions for those who might work with vulnerable groups. This law would not restore firearms rights or remove the criminal record from public view.
CROP is supported by a broad coalition of organizations from across Washington State, including Washington Association of Prosecuting Attorneys, Rental Housing Association, Washington Superior Court Judges Association, Partners for Our Children, Greater Seattle Business Association, Union Gospel Mission, and others.
---