Greetings from the State House of Representatives,
 We are nearing the end of the 2016 session, and with only a few weeks left I want to share an update on what has been the focus of this session – education. The video below is not one of those quick little flashy updates – It's an in-depth, candid conversation about what it is going to take for the Legislature to fully fund education and meet the court's McCleary deadline by 2018. Fully funding education is something that we cannot afford to get wrong!  We can't rush through a solution, just to have the courts veto it, or have the voters overturn the necessary revenue to fund the solution. We have to be thoughtful, bipartisan, and collaborative to solve this once-in-a-generation moment.
 The task ahead of us will be an enormous challenge; we need at least an additional $3.5 billion per biennium to fully fund our paramount duty.  We've already added over $2 billion in educational investments, but now we need to look at comprehensive tax reform to complete the job.  Those who suggest we cut our way to a fully funded education system are just plain wrong.  It's a false choice to suggest that we have to pick school funding over vulnerable families, books over senior citizens, classrooms over secure pensions. In a state that has shrunk the state's vital investments from 7% of the private sector economy to below 5%, we have the capacity to fully fund ALL of our priorities without being a high-tax state – we just need to get back to being an average tax state to achieve our highest ideals.
 I hope you will watch the video and please send me a note with your thoughts, questions, or ideas at Chris.Reykdal@leg.wa.gov.
 I look forward to hearing from you, and as always, it is an honor beyond words to serve you and the citizens of this state – my home state – THE Evergreen State.
 – Chris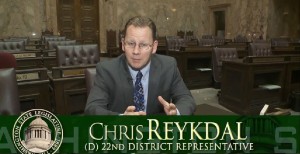 ---