OLYMPIA – The sale of brand-new Washington Tennis specialty license plates could help pay for public indoor tennis courts in Renton, or eventually other cities, thanks to a bill sponsored by state Rep. Steve Bergquist and signed into law Friday (Mar. 25) by Gov. Jay Inslee.
Bergquist (D-11th, Renton) introduced the legislation last June, but it got lost in the shuffle of the tumultuous series of special sessions in Olympia.  It fared better this year, gaining bipartisan approval in both the House and Senate.
"Encouraging people to play tennis is an important way that we can contribute to health and vitality here in Washington," Bergquist said.  "There are hundreds of thousands of tennis players of all ages in our state, and the U.S. Tennis Association estimates there are more than 20,000 just in Renton and surrounding areas.  They won't all buy the Washington Tennis plate, of course, but I'm hopeful that this will produce a significant revenue stream to help bring more year-round tennis opportunities to the Puget Sound region."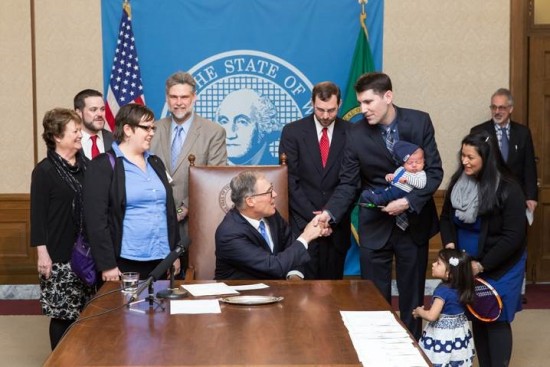 The United States Tennis Association, which is the governing body of tennis and serves over 15,000 members in the state of Washington, also supported the legislation.  Matthew Warren, USTA/Pacific Northwest CEO & Executive Director, said "We are grateful for Rep. Bergquist's leadership; in time, this legislation will create jobs, improve communities, and provide more year-round health and wellness opportunities through the game of tennis."
Bergquist's bill does not specifically name Renton as the potential recipient of the funds; instead, it requires that proceeds from sales of the plates be made available to the largest Washington city without a four-court indoor tennis facility.  Renton is currently at the top of that list.  The recipient city will have five years to build the facility with funds from the license-plate revenue and other sources, and funds will also be available to help with maintenance.
The Washington Tennis license plates will be available to motorists on January 1, 2017.
---