Overview
The 60-day regular session for 2016 has come to a close. Unfortunately, the Legislature went into overtime because a budget agreement had not been reached. While special sessions are never ideal, they are sometimes necessary to ensure we continue investing in our schools, expanding access to safe and affordable housing, and providing adequate care for those suffering from mental illnesses.
Budget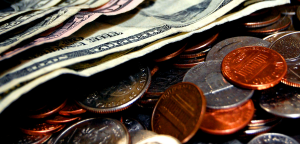 Two weeks into the special session, the Legislature approved a supplemental operating budget that invests additional funds in education, mental health, and youth homelessness. We also approved capital expenditures to fund the Bellevue Boys and Girls Club new facility that will allow the nonprofit to offer pre-K classes and much-needed daycare for working families. And, we successfully fought back the powerful communications industry who had pressured lawmakers for special tax treatment. These are the primary reasons I voted yes for the budget. And while I appreciate that we must compromise to move the needle, I was extremely frustrated that lifting the levy lid for school districts was not approved by the Senate. More on that below.
Charter schools
Just as the 2015-16 school year began, the state Supreme Court issued a ruling declaring the state's charter school law unconstitutional, effectively throwing the educational futures of about 800 students into turmoil.
I'm a supporter of school choice so long as transparency and accountability are incorporated within any educational institution that uses public funds. But I did not support SB 6194, the Senate bill to save charter schools, because I believe the bill will not survive additional constitutional challenges. You can read more about my vote on charter schools here.
Looking forward on McCleary
The Legislature has added $4.2 billion in new investments for K-12 schools since 2013. These new investments are vital to ensuring our schools are fully funded, but there's still work to do.
The last major challenge will be to solve the problem of school districts relying on local levies to pay teacher salaries. The exact dollar amount required to fix this problem is unknown, but estimates are as high as $4 billion.
The Legislature passed a bipartisan bill (SB 6195) that creates a task force to study this problem in depth over the next several months. But more importantly, the bill commits the Legislature to fixing this problem by the end of the 2017 session.
This session, the Legislature also expanded investments in our K-12 schools, including $3.5 million to expand the Beginning Educator Support Team (BEST) program to help with teacher requirement and retention, $1.8 million to support professional development for classroom para-educators and $1.2 million to help close the educational opportunity gap.
Great education policy rejected by the Senate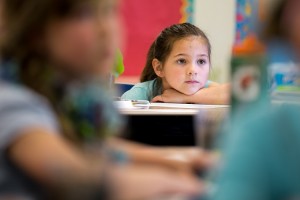 The unfortunate reality of a legislature where power is divided between Democrats and Republicans is many good, worthwhile policies don't make it to the governor's desk. That was the case again this year when bills like Breakfast After the Bell, increased starting salaries for new teachers, high school assessment reform, and mental health prioritization for school counselors failed to gain the support needed to pass the Republican-controlled Senate.
Another major disappointment was the Senate's rejection of HB 2698, a bill that would allow necessary levy funding to continue to go to school districts while the state continues working on a fix to fully fund education. By not adopting this measure, which passed the House with strong bipartisan support 91-7, local school districts could lose $90 million in funding.
The state must end its reliance on local levies to fund basic education by the 2018-19 school year. If the Legislature has not reached agreement on how to fund education before April 1 2017, they must introduce legislation lifting the lid by April 30. That is the "compromise language" one Republican colleague described as the "best" the school districts could hope for.
While I understand the argument that it is premature to include $90 million in the budget for a contingency, I also think extending the levy lid another year was the right policy. Unfortunately I was not on the winning side of that battle – this year. Cutting school funding is a step backwards. I'm disappointed the Senate Republicans did not approve this funding for our schools. I do not intend to wait until April 1 to see if the state will fulfill its constitutional duty to fund basic education. I intend to introduce legislation at the first opportunity before next session begins to lift the levy lid to ensure sufficient time to pass the bill, should it be needed.
My bills
This being a short 60-day session, and my first session, I am proud that I was successful in getting several policies through the Legislature and sent to the governor for his signature:
Two other issues I worked on this year, better health protections for first responders and protecting communities when someone suffering from a mental illness poses a serious threat to themselves or others did not make it through the legislative process this year. However, I'm committed to working on these and many other issues this interim in hopes of introducing these ideas again next session.
Other Priorities:

I-405 Improvements
I-405 was another major issue on the legislative radar this year.  I co-sponsored legislation to enact changes to the express toll lanes. Although the legislation didn't pass, we were successful in convincing WSDOT to use its emergency rule-making authority to open up the toll lanes on nights, weekends, and major holidays, and to add more entry/exit points along the corridor so drivers can more safely and easily merge into the hot lanes – two components of the proposed legislation.
I am committed to staying on top of this issue on your behalf and will send you updates as new developments emerge.  You can check out my previous I-405 posts here and here.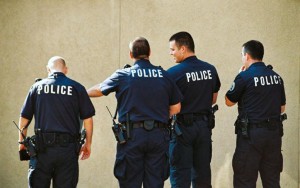 Body Cam bill
The policy debate on police body cameras has intensified as a growing number of law enforcement agencies are using, or are considering using, body cams. In general, I support the use of tools that help law enforcement agencies, prosecutors, and families uncover the truth after an altercation with police.  If a picture is worth a thousand words, then video is often worth much more.
Under the assumption that the use of body cams will increase, the Legislature passed a bill to establish some parameters. The bill has three primary elements:
Puts reasonable restrictions on Public Records Act requests for body cam footage to protect sensitive and private information, such as the identity of minors, images of sexual assault victims, and the interior of someone's home;
Requires law enforcement agencies that use body cams to establish policies on their use, and;
Creates a task force made up of a variety of stakeholders to study the implementation of body cams.
This bill lays the foundation for the development of fair and reasonable guidelines and safeguards for use of this new and important technology, and I was pleased to support this bill in committee and on the House floor where it passed with strong bi-partisan support.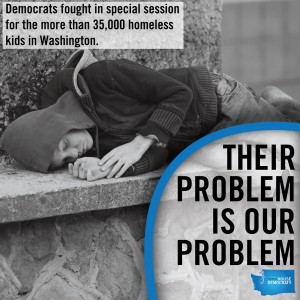 Affordable Housing
The number of homeless students in Washington state increased to over 35,000 children this year. That's unacceptable. We can do better for these kids. A step in the right direction this year, we approved HB 1682 – a bill that will reduce student homelessness by providing a competitive grant program for school districts to connect homeless students to stable housing and educational resources.
The Legislature took action this session to open up more doors to employment and housing by allowing offenders that have paid their debts to society a chance to reintegrate into society. In too many cases, structural barriers within our legal system prevent offenders from getting a job and housing after they complete their sentences. With the passage of HB 1553, these offenders will receive a Certificate of Restoration of Opportunity, which will give them better access to housing and work.
House Democrats originally pushed for an additional $60 million in new funding for homeless assistance. After negotiations with Senate Republicans, we allocated an additional $17 million for homeless services. This is a step in the right direction, but is not nearly enough to adequately address the problem.
Town Hall Discussions!
Since becoming one of your state representatives, I've had the pleasure of hosting two in-district town hall discussions with my seatmates, Sen. Cyrus Habib and Rep. Joan McBride. The three of us also hosted a telephone town hall in February. (If you missed, it, you can listen to the replay here.)
These are excellent opportunities for us to hear directly from you on the issues you care about most. If you didn't make it to one of our events but would still like to share your opinions with me, you can email me any time by clicking here.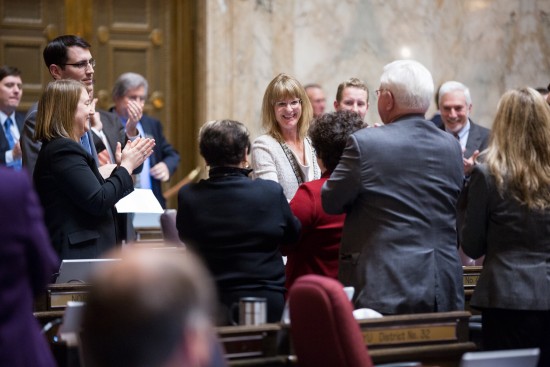 ---