OLYMPIA – In a ceremony on Friday, the Governor signed legislation sponsored by Rep. Marcus Riccelli (D-Spokane) to keep neighborhood kids in neighborhood schools. The law, HB 2985, gives school districts more classrooms by changing an out-of-date state law that bans use of old facilities even after they've been replaced.
"Mead families brought this situation to my attention because existing classroom space was being replaced, but the existing space couldn't be utilized because of state law. When Washington is struggling to find a solution to smaller class sizes and all-day kindergarten space needs, it only makes sense that we utilize our existing facilities as much as possible. Now, neighborhood kids will be able to attend their neighborhood schools and I'm proud we were able to get this done on short notice," said Riccelli.
HB 2985 changes a state law that requires educational facilities to be taken offline once they've been replaced through new school construction. Instead, replaced school buildings can be used for instructional space to implement all-day kindergarten and reduce class sizes in K-3. Schools that require new space due to enrollment growth and have had failed bond elections within the past five years can also utilize this law to ease their overflow.
Click the image below to watch Gov. Inslee sign HB 2985 into law.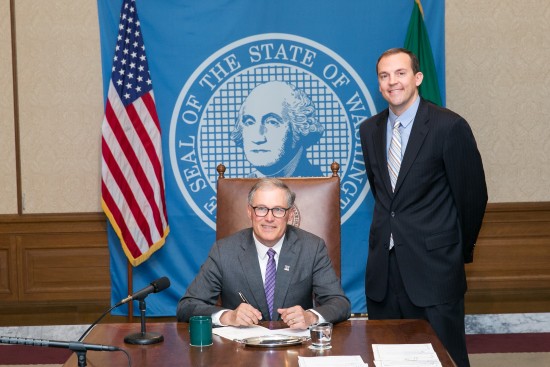 ###
---