OLYMPIA – Representative Tana Senn (D-Mercer Island), the lead sponsor of Washington State's equal pay bill, released the following statement today in recognition of Equal Pay Day – which marks the day this year when women's pay finally catches up to what men were paid last year alone, due to the ongoing wage gap between men and women: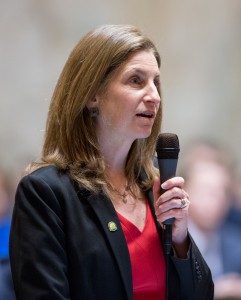 "Today, more than 50 years after passage of the Equal Pay Act by Congress, women still typically earn only 79 cents for each dollar a man takes home – and the disparity is even larger for women of color. Here in Washington State, based on today's wage gap, a woman would lose nearly $500,000 over the course of a 40-year career, according to a recent analysis by the National Women's Law Center.
"With millions of women in this country, and all across Washington, serving as the primary breadwinner for their families, this isn't just the right thing to do – it's a matter of basic economic security. Equal pay for women could make all the difference in affording child care, saving for their kid's college education, or having the ability to retire with dignity. It would reduce reliance on government programs and also boost our nation's GDP by 2.9 percent or $450 billion.
"While the legislature did not pass the Equal Pay Opportunity Act this year, I will continue to lead the way in advocating to make equal pay a reality."
---