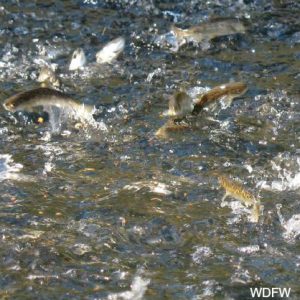 OLYMPIA—Speaker of the Washington House of Representatives, Frank Chopp has appointed 19th District Rep. Brian Blake (D-Aberdeen) to the Pacific Fisheries Legislative Task Force, replacing former Rep. Dean Takko.
The task force, composed of lawmakers from Alaska, California, Idaho, Oregon, Washington and British Columbia, was created to promote the fishing, seafood and aquaculture industries, and work with other fishery organizations to resolve interstate disputes.
"I am looking forward to participating on the task force and working with lawmakers from other states on management policies to improve the conservation of fisheries, as well as advocating for responsible hatchery practices along the Pacific Coast," said Blake, who chairs the House Agriculture and Natural Resources Committee.
The Pacific Fisheries Legislative Task Force serves as a clearinghouse for opinion from the various interests involved in Pacific fishing. Duties of its members include reporting to the legislatures and Congressional delegations of the participating states on issues involving the protection and fostering of fishing in the Pacific region.
"The importance of fisheries in our state cannot be underestimated; from supplying a food source for millions of families, to creating jobs, to providing recreation, the impact of the industry on the entire state of Washington is unquestionable," Blake added.
Fish and shellfish are vital to the state's economy and way of life. According to the Department of Fish and Wildlife, Washington's recreational and commercial fisheries generate $2.8 billion of economic activity annually and support 28,000 jobs.  Local communities, small businesses, and Indian tribes throughout the state depend on these resources.
---