OLYMPIA – The use of deadly force by police officers has raised alarm across the country, and Washington is taking a proactive step to address concerns from local communities. Recognized for his work as chair of the House Public Safety Committee, State Rep. Roger Goodman (D—Kirkland) has been elected to serve as co-chair of a new legislative task force to review the use of deadly force, which met for the first time Tuesday, June 28, 2016.
The Joint Legislative Task Force on the Use of Deadly Force in Community Policing was established by House Bill 2908 and includes members from both the House and Senate from both parties. The task force will review laws, practices, and training programs regarding the use of deadly force, alternatives to lethal use of force, and recommend best practices to reduce violent interactions between law enforcement officers and members of the public.
"The public needs to understand better how difficult a police officer's job is, and law enforcement needs to understand better how the public perceives them," said Rep. Goodman. "I believe we are the only legislative group in the nation right now bringing all parties together to build a foundation of trust between police and the community. We're looking for ways to reduce the use of lethal force and prevent these traumatic incidents, and by bringing everyone together like this I hope we can help build that trust."
"This could very well be a model for the rest of the nation on how to help bring people together to build understanding, so we can foster more constructive relationships between the police and the communities they serve," Goodman added.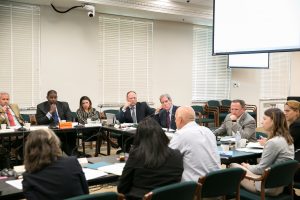 ---