OLYMPIA – Representative Roger Goodman (D-Kirkland), an attorney with extensive criminal justice experience, has once again been chosen by his colleagues to serve as Chair of the House Public Safety Committee.
Rep. Goodman has led the Public Safety Committee since 2012, advocating for measures that not only provide strict penalties for criminals, but also reduce recidivism. Most notably, Rep. Goodman has led the committee in passing multiple bipartisan bills to combat drunk driving and domestic violence.
During the 2017 session, a major focus of the Public Safety Committee will be law enforcement's use of deadly force, an issue that has captured national attention. Rep. Goodman recently served as co-chair of the Joint Legislative Task Force on the Use of Deadly Force in Community Policing, which examined options to improve police interactions with the community, including the need for more training in de-escalation practices and in the use of non-lethal weapons.
"The task force made it clear that this conversation must continue," Goodman said, "and one of the major issues we discussed was increased funding for law enforcement training. In the upcoming legislative session I intend to champion that funding, so we can prepare our officers with skills to de-escalate and prevent violent confrontations before they ever happen."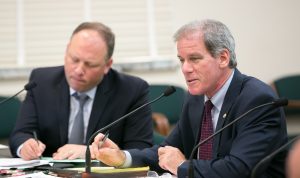 Rep. Goodman also plans to introduce a comprehensive measure to reduce domestic violence, as well as a bill to protect vulnerable adults. The domestic violence legislation would enact harsher punishments for repeat offenders, while the vulnerable adult bill would increase penalties for financial exploitation and physical harm to vulnerable adults.
"Whether someone is the victim of domestic violence or the victim of elder abuse, they deserve not only justice, but for their abusers to be held accountable for their crimes. These bills are top priorities for me because they will not only help create safer communities, but safer families," said Goodman.
In addition to chairing the House Public Safety Committee, Rep. Goodman will serve as a senior member of the House Judiciary Committee, and once again serve on the House Early Learning and Human Services Committee, where he plans to use his experience in public safety and criminal justice to advocate for expanding restorative justice practices for juvenile offenders.
---