Below find the text of Speaker Frank Chopp's 2017 Legislative Session Opening Day Speech. You can also watch the video via TVW at this link.
---
Thank you Pat for those kind words. I greatly appreciate it.
At this point, I would like to recognize the person who just handed me the gavel: Barbara Baker.
Barb has served as Chief Clerk for 10 years. Her good will, patience, understanding, and leadership have distinguished her as one the best chief clerks to ever serve the House.
Most of all, she has set a high mark for ethical behavior and fair treatment of all in a job that demands devotion to service.
Barb, thanks so much for your great work. Please join me in applauding her outstanding service to the House.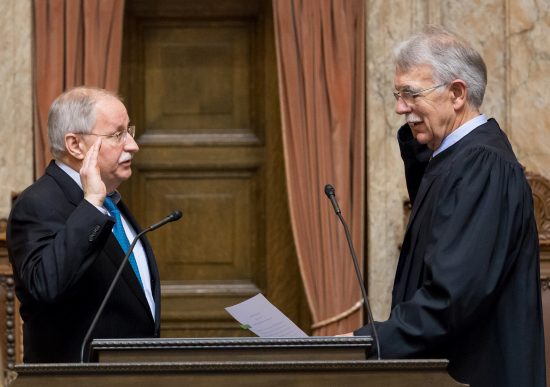 Welcome to the people's House! Will the new members please stand?
Thank you for stepping forward to serve the people of Washington State. I know you enter into this chamber with one goal: To solve the problems facing our people and our communities. Your energy will be an asset for us all.
Now, everybody up! Let's give a warm welcome and a standing ovation to our new colleagues.
None of us could do this job without the support of our families, employers, and friends. In particular, I want to thank all the family members who are with us today, for the sacrifices you make that allow us to be here.
Let me introduce my family. With me today is my wife, Nancy Long, and my daughter, Ellie Chopp.
Here in the People's House we have worked hard to meet the needs of people across our state. We reject the notion that there are conflicting regions or cultures in our state. We work for the success of One Washington, based on the shared values of our people.
These values have led this House to enact a record of great accomplishments:
Because we believe early investments in education will pay dividends for decades to come, we passed the Early Start Act, the largest expansion of early learning in state history.
Because we believe education is the best way up and out of poverty, we passed Opportunity Gap legislation and carried out the College Bound and Opportunity Scholarship programs to help our next generation.
Because we believe health care is a fundamental human need, we expanded our Apple Health program by 600,000 people, the largest expansion of health care in state history.
Because we believe mental illness deserves the same concern as physical illness, we enacted Joel's law, Sheena's law, and Ricky's law, empowering families and friends to save lives and giving them greater peace of mind.
Because we believe in putting people to work, we approved the largest investments in public works jobs and transportation in state history to help create an economy that can work for all.
Because we believe in standing up for working people, we passed a huge increase in the minimum wage and a mandate for paid sick and safe leave. And this past November, the voters of our state agreed.
Because we believe in equal justice for all, we passed the Equal Pay Act and the Voting Rights Act. And someday soon, we hope the Senate will agree.
And most importantly, because Basic Education is a constitutional right, we acted to fulfill our duty to our kids and passed House Bills 2261 and 2776, which form the framework for the McCleary Supreme Court decision.
Three and a half years ago, this House passed a package that funded the promises we made to provide an excellent education for our kids.
The Senate refused to act then. But this year, we must get the job done.
This year there will be many important issues demanding our attention, like supporting our community colleges and providing opportunities for job creation in areas of high unemployment.
But this year, providing full funding of basic education is imperative. Our young people are depending on us to get the job done.
It's important to our students and our families, but also to our businesses and our workforce, to create a better economy for all of us.
At the same time, we must re-dedicate ourselves to the provision of basic health care for our people.
In the other Washington back east, there is a very real threat to 750,000 of our fellow Washingtonians.
An average of 15,000 of our neighbors in each legislative district are on the verge of losing their health care.
If that happens, many will suffer, many will go bankrupt, many will be neglected, many will die.
Whatever happens in Washington DC, in this Washington, we must not let our neighbors in rural and urban areas go without basic health care.
That includes, mental health. All across our state, in every workplace, in hospital hallways, in the jails, and on the streets, people are struggling with mental illness.
Over the past several years, we have made much progress in education and health care. But we have so much more to do.
As we work on these goals, let us treat each other with respect, keep an open mind, and most importantly, hold the public interest as our prime directive.
Our constitutional duty is to fund our students who are learning. Our moral imperative is to care for our people who are suffering.
Because we believe in working together for One Washington, let's get to work.
Thank you.
---