Earlier today Sen. Karen Keiser (D-Des Moines) and Rep. June Robinson (D-Everett), with members of the Washington Work and Family Coalition, as well as parents, workers, business owners and other lawmakers gathered at the Capitol Building Rotunda steps to get the ball rolling on making 2017 the year for Paid Family and Medical Leave in Washington.
"No family should struggle to take time off in the face of a serious illness or to care for a new baby," said Rep. June Robinson, sponsor of the House bill (HB 1116). "It's time to move forward with paid family and medical leave. Our plan was created with the advice of health experts, worker groups, community organizations, and Washington business owners. This is a solution that works for everyone."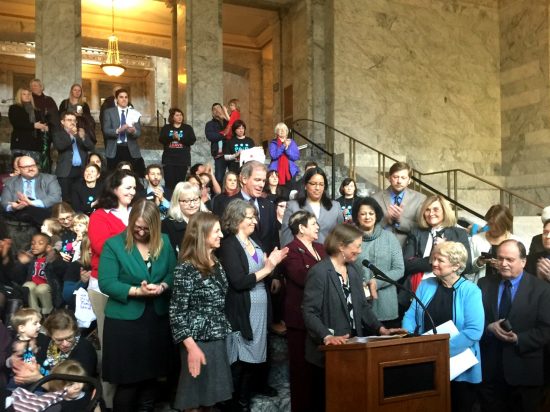 "All of us have experienced a family or health crisis for which a couple sick days just weren't enough, whether it was a premature baby, an unexpected illness, or the failing health of a parent," said Sen. Karen Keiser, sponsor of the Senate bill (SB 5032). "Paid family and medical leave would mean better health outcomes for Washington babies, moms, and families in every stage of life."
Under the House and Senate bills, which are identical, Washington workers would be able to use extended paid leave for situations such as the birth of a child, a personal health emergency, or to take care of an ill family member, like an aging parent.
Beginning in 2019, employees could take up to 26 weeks of paid family leave, which includes caring for a newborn or newly-adopted child or an ill family member, including injured service members.
Beginning in 2020, an employee could take up to 12 weeks of paid medical leave, which could be used for the employee's own serious health condition.
The program would be funded by payroll premiums paid by both employees and employers, costing each about $2 a week for a typical Washington worker – making it extremely affordable for business owners.
Only 13 percent of workers have access to paid family and medical leave, usually high-wage earners, according to the Bureau of Labor Statistics. Among lower-wage workers – predominantly women and people of color – the rate is 4 percent.
Despite the high costs of infant childcare and pediatricians' recommendations to breastfeed for at least six months, one in four women go back to work within two weeks of childbirth because they can't afford to stay home longer. Women in states with paid leave programs take more time, are more likely to be working a year following childbirth, and earn higher wages.
---