Welcome to the 2017 Legislative Session
The first week of session got off to a quick start, and we wanted to take a moment share our committee assignments and provide a brief legislative update.
Rep. June Robinson will continue to serve on Health Care Wellness, and was appointed to Agriculture and Natural Resources. Additionally, she was appointed to serve as Vice Chair of Appropriations.
Rep. Mike Sells will continue to serve as chair of Labor & Workplace Standards, and will also serve on the Capital Budget and Higher Education committees.
We will continue to provide regular updates through what is sure to be an exciting legislative session.
——————————————————————
Will 2017 (finally) be the year for Paid Family and Medical Leave?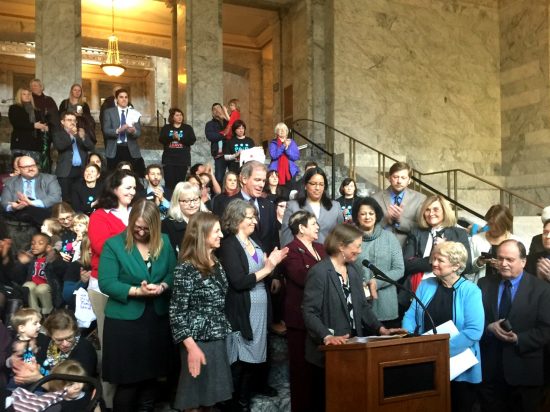 To get the ball rolling early, Sen. Karen Keiser and Rep. June Robinson introduced bills on the second day of session allowing workers to take time off in the face of a serious illness or to care for a new baby.
Under the bills (SB 5032 & HB 1116), employees would be able to use extended paid leave for the birth of a child, a personal health emergency, or to take care of an ill family member. It's a comprehensive, practical and affordable plan for both workers and businesses that will promote stronger families and a secure middle class.
Get more details here.
——————————————————————
Giving all kids great opportunities
Washington has a constitutional mandate to provide public education for all kids in our state. In fact, it's our "paramount duty." For the last several decades, the state has failed to adequately fund basic education, which means our 1.1 million K-12 students aren't all getting the same opportunities to succeed.
While the Legislature has added nearly $5 billion in new dollars to our K-12 system over the last six years, one final challenge remains related to teacher compensation. In order to comply with Washington state law and the McCleary court ruling, the Legislature must adopt a solution this session that ends the state's reliance on local levies to pay teachers.
The bipartisan Education Funding Task Force, created by the Legislature last April, was supposed to provide specific, tangible recommendations to the Legislature by January 9th to address these problems. House and Senate Democrats put in countless hours over the summer and fall to come up with real solutions to the teacher compensation problem. Our proposal pays public school teachers what they deserve to be paid, ends the reliance on local levies, and creates new accounting requirements to ensure education will be fully funded for the next generation of students. You can read a summary of the proposed solutions here.
After seven months of meetings, Republicans have proposed no tangible solutions and are only offering up what they call "guiding principles."
The education underfunding problems have been known to lawmakers for years. The time for "guiding principles" is long past. No more excuses. No more delays. The Legislature needs to step up and fully fund education NOW!
Despite these recent delays, both of us believe we can still come to agreement this session on a solution that fully funds our public school system and gives all children the chance to reach their dreams. We will keep you posted as negotiations continue.
——————————————————————
A chance for young people to see their government in action
What is a "page"?
In feudal times, a boy attending to a knight
A leaf or sheet or paper in a book
A young teen getting a close-up look at government in action, having fun and earning money while spending a week delivering documents and helping out House members in the Washington state Legislature.
The answer, of course, is "all of the above" – but the one most relevant here is (3). With the Legislature in session, it's page season once again, which means a great opportunity for 14-, 15- and 16-year-olds from across the state to have a hands-on experience in government.
If you know a young person who is interested in serving as a page, click here to learn more and to download an application. Don't delay – spots fill up quickly!
---