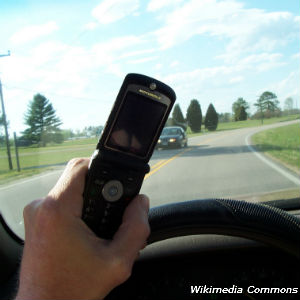 OLYMPIA – A bill aiming to make Washington's roadways safer by banning the use of handheld devices while driving has been introduced in the state Legislature.
Rep. Jessyn Farrell (D-Seattle), is sponsoring the Driving Under the Influence of Electronics Act in the House because the state's current distracted driving law doesn't reflect the ways handheld devices are being utilized today.
"It makes no sense that texting while driving is against the law, but checking Facebook or another app isn't, even though those things are also dangerously distracting for drivers," Farrell said. "We see the tragic consequences of this on roads and highways in every corner of our state. It's time to update our law to make our roads safer."
Sen. Ann Rivers (R-La Center), is sponsoring the measure in the Senate. She sponsored a similar bill in 2015 that passed the Senate but stalled in the House. Rivers hopes the work she and Farrell have done to involve stakeholders will help their legislation make it to the governor's desk this year.
"The other day I saw someone on the highway holding a tablet computer in the middle of the steering wheel, and it was clear the person was paying more attention to what was on the screen. That's not driving — it's a tragedy waiting to happen, and there's no telling how many innocent lives it could change," Rivers said. "People like that need new motivation to keep at least one hand on the wheel and their eyes looking ahead. This legislation basically says that if operating a phone or device takes more than one finger, then it had better wait until you're safely off the road."
The bill increases the fine for distracted driving, doubling it for repeat offenses. But the consequences go farther than a stiffer fine. It also makes distracted driving a moving violation, reported to courts and insurance companies. This means a citation would go on your driving record and potentially increase your insurance rates.
Distracted driving deaths in the state have risen sharply since 2014. There were 130 deaths that year, climbing to 171 deaths in 2015. An additional 109 deaths have been reported so far through September 2016, and the number is expected to climb further.
Both Farrell and Rivers agree this spike means the law needs updating. They have also heard from family members of those killed by distracted drivers who want the law changed so other families don't lose a loved one from something so preventable.
State Patrol troopers are often first on the scene of a distracted driving accident. They also regularly spot drivers who appear to be using their phones, but there isn't much they can do about it unless the phone is held to the driver's ear. The Driving Under the Influence of Electronics Act would change that.
"Distracted driving puts drivers, passengers and pedestrians in danger," said Washington State Patrol Chief John R. Batiste. "Strengthening distracted driving laws will make it easier for troopers to protect the public by enforcing the law and encouraging good driving behavior."
Farrell's measure is House Bill 1371. Rivers' bill is awaiting introduction in the Senate.
---