Standing up for our shared values during the 2017 Legislative Session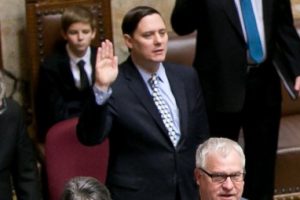 Last Monday, I was sworn in to serve the constituents of the 1st Legislative District for my 4th term. There are many challenges facing the Legislature this session, and I look forward to working hard to make positive changes for our district and our state.
This session, the Legislature must make the hard decisions necessary to fully fund basic education as required by the state Constitution, and I have joined the Appropriations Committee to work directly on this. We must also maintain and improve our transportation infrastructure, access to healthcare, clean air and water, and other priorities for safe and vibrant communities.
As Speaker of the House Frank Chopp said during his opening remarks on Monday, "Our constitutional duty is to fund our students who are learning. Our moral imperative is to care for our people who are suffering."
The task in front of the Legislature is not an easy one, but I am here and ready to stand up for our children, our families, and our neighbors in urban and rural areas, and make sure that our shared values as Washingtonians are upheld.
Will 2017 (finally) be the year for Paid Family and Medical Leave?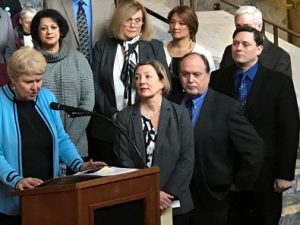 I was proud to stand with my colleagues Sen. Karen Keiser (D-Des Moines) and Rep. June Robinson (D-Everett) as they introduced bills on the second day of session allowing workers to take time off in the face of a serious illness or to care for a new baby.
Under the bills (SB 5032 & HB 1116), employees would be able to use extended paid leave for the birth of a child, a personal health emergency, or to take care of an ill family member. It's a comprehensive, practical and affordable plan for both workers and businesses that will promote stronger families and a secure middle class.
Get more details here.
Keeping tabs on your Legislature
I appreciate hearing from you throughout the session, and I want to help you stay up-to-date on budget and other discussions. We'll do our best to keep you informed with this e-memo, but there are several other ways to stay connected with us:
*Visit our website at www.housedemocrats.wa.gov
*Like our Facebook page.
*Follow us on Twitter @WAHouseDems.
*Follow us on Instagram
*Subscribe to our blog's RSS feed – The Caucus Newsroom.
You can also feel free to schedule an appointment with our office in Olympia or stop by if you are going to be in town. To schedule an appointment please call my office at 360-786-7928 or email me at Derek.Stanford@leg.wa.gov.
Thank you,


Rep. Derek Stanford
---