This is the end of the third week of session and it's very busy in Olympia.  I wanted to give you an update on the work we've been doing. As you know, much of the focus is on education funding and we took an important step toward that end on Monday with passage of the Levy Cliff bill. But there are other important measures floating around that could greatly benefit Washington families, especially in the committee I have the honor of chairing. You'll remember we worked on Paid Family and Medical Leave the first week of session, and this week I heard testimony on two bills that could help us close the gender pay gap. And this week we also introduced bills to make sure kids don't go hungry.
Let's get to it:
——————————————-
Levy Cliff Bill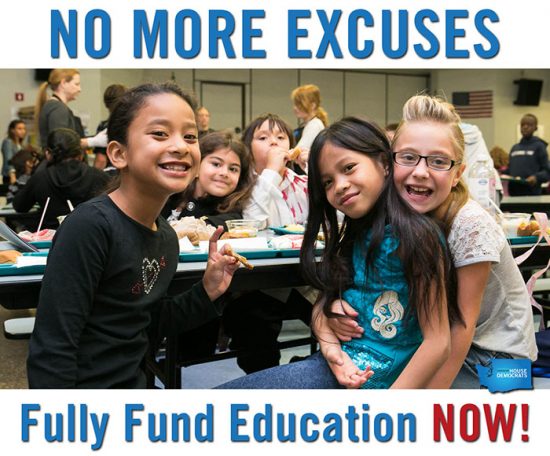 You may have heard the House passed the Levy Cliff bill (HB 1059) on Monday with bipartisan support, which is a great start, but if the Senate doesn't follow suit, public schools will lose roughly $358 million in funding for the 2017-18 school year.  Click here for more information and an interactive state map where you can see exactly how much each school district could lose.
Students deserve stability in their schools. This bill makes sure that school districts aren't held hostage while the Legislature finds long-term solutions to the school funding problem. I hope the Senate honors the state's promise to fully fund education because Washington's 1.1 million school kids shouldn't have their education disrupted due to partisan politics.
——————————————-
The same work deserves the same pay 
Those who do the same work should receive the same pay. We are a nation founded on the ideal that all of us are created equal. It is time that we hold true to that in the workplace.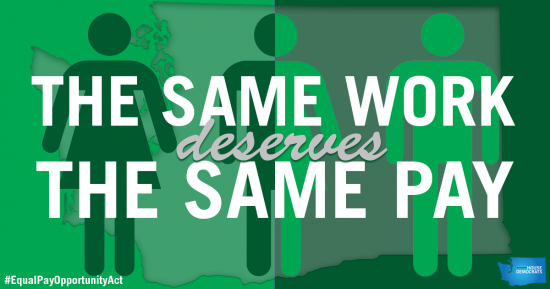 Our current law, the Washington State Equal Pay Act, hasn't been updated since 1943. While we were cutting edge on this issue then, our laws have fallen behind. Let's not let women fall farther behind in economic security and fair pay. The time for change is now.
This week we heard HB 1506, the Equal Pay Opportunity Act in the Labor and Workplace Standards Committee. It was interesting and informative to hear testimony from workers and business owners on the fact that women continue to earn less than men for doing basically the same jobs. It is unfair and it needs to change. This bill would prohibit pay secrecy policies, allow discussion of wages, and prohibit retaliation for asking for equal pay. Read more about this legislation here.
If we want to support Washington's working families and strengthen our economy, it's time for us to support all of Washington's workforce equally.
——————————————-
Leave your old salary in the past and move on up
Have you ever been asked how much you made in your previous job when you are applying for a new one? It's pretty common and it's a really bad practice that can keep wages down over your entire lifetime.  It's also perfectly legal, but hopefully not for long, as my committee also heard HB 1533 this week.
This measure would prohibit employers from asking candidates their salary history in the application form or during the initial interview.
Making salary history part of the job interview process means that tomorrow's salary depends on yesterday's wages. If there was a pay gap and lost wages at the previous job, the new employer is now continuing the cycle.  Employers should state a compensation figure upfront based on what an applicant's worth is to the company, not on what he or she made in a previous position. Under this bill, they can ask about salary history after they make an offer so the applicant has the ability to negotiate from a fair starting point.
This bill will help close the pay gap between men and women, creating a fresh slate for workers.  It's an effective way to make sure past discrimination doesn't carry into new jobs, and will require Washington employers to offer salaries based on the applicant's merit and skills, not gender, race, or ethnicity.
——————————————-
Hungry kids can't learn
Each of us probably knows a kid who goes to school hungry (even if we do not realize it).  Hungry kids struggle to learn, and for too many of them, meals at school are their only opportunity to eat each day.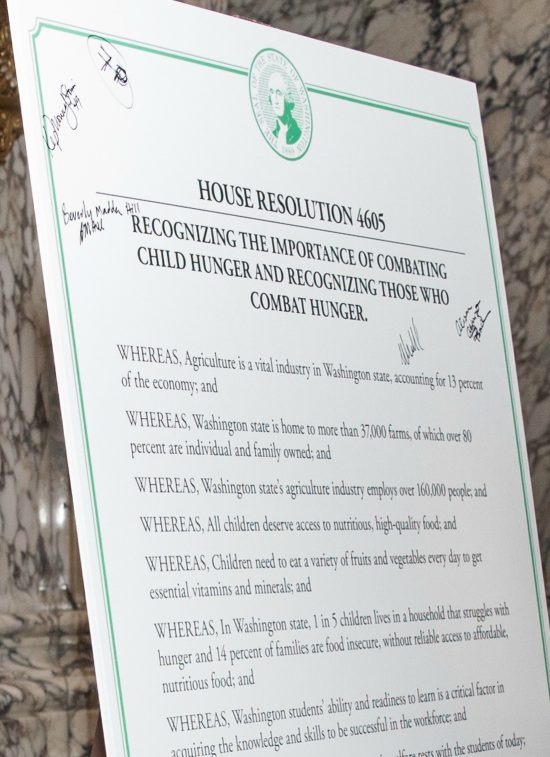 This session House Democrats are addressing the problems of hunger and poor nutrition in school with a package of bills to help ensure kids get the nourishment they need to focus on learning.  HB 1508 gives kids a chance to eat breakfast after the bell and eliminates co-pays for students that get reduced cost lunches. HB 1551 will help schools purchase the equipment needed to make more food from scratch. Other bills include engaging at-risk high school students in farming, extending the Food Policy Forum, and conducting an economic study of the impacts of our in-state food supply.
The House of Representatives also adopted a resolution recognizing the importance of combating childhood hunger, the economic and education benefits of connecting local farmers with schools, and commending advocacy groups for their efforts to end hunger in Washington.
——————————————-
Thank you for your interest in keeping informed with what's happening in your state legislature. Please send me an email or give my office a call with your feedback and ideas. Your input helps me serve you better.
Sincerely,

---