An update to the "levy cliff" bill
Dear friends and neighbors,
As I mentioned last week, one of my most important bills this year is HB 1059 (commonly called the "Levy Cliff" bill). The bill passed the House this week and is in the Senate for their consideration. It's an important bill for our school districts and I wanted to give you a little information on it.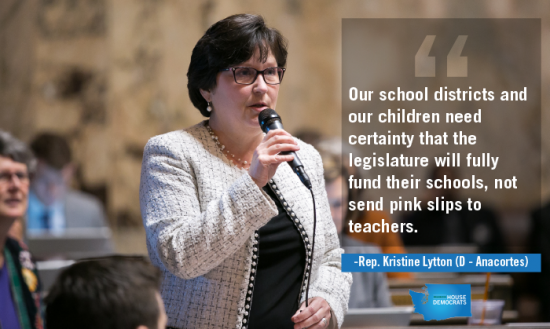 During the Great Recession of 2009, we recognized that school districts needed a little more leeway in their local levy authority. This helped school districts make up for state funding shortfalls due to the recession. But, we put a deadline on that flexibility: this year. We figured we would have the education funding problem solved by now. You may have heard we haven't quite gotten there yet. We're working hard to get there, and I'm still confident we'll have a bipartisan solution this year, but it's not the school districts' fault we haven't solved the funding problem yet and we shouldn't punish them by letting the levy funding expire.
Without this bill, thousands of talented, high-quality young teachers will finish this school year uncertain about whether they will get layoff notices – the last thing this state needs in the middle of a teacher shortage crisis.
In our community, the Bellingham, Anacortes, San Juan, and Orcas school districts would lose over $4 million.
There are over 1.1 million school kids in Washington. We need to make sure this bill is passed in the Senate and goes on to the governor.
My speech on the floor of the House on the "Levy Cliff"
If you'd like to see my speech on why we need to pass the "Levy Cliff" bill, please click below.
---
---