Hello 28th Legislative District!
I have been working hard the past week and have several new bills to tell you about, so let's jump right in!
What to do if there is an oil train accident in our community
Recently a constituent asked what information was available about what to do in the event of an oil train accident. I went digging for information provided by the state and, it turns out, there's not much at all.
Our community needs to know what to do if there is an oil train accident, how exposure might affect our health, and the impacts to air and water quality. I have authored a bill (HB 1698) that would require the Department of Health to work with our local officials and first responders to develop an awareness and education outreach program so we can be better prepared to protect our families in the event of an emergency.
Transparency in school districts when buying a home
Another issue that a constituent brought to my attention was a lack of transparency in buying a home. This family bought a house in University Place and were told that was the school district their children would be attending. Except, it turns out that was incorrect—they were actually in the Tacoma School District and their school was located much farther away.
When you're buying a home, school districts are a huge factor for many families. You don't want to buy a house, thinking your kids will stay in the same district they were in before, only to be told they have to change to another district. That's not right. That's why my new bill (HB 1579) would include the home's school district information on the standard disclosure statement that sellers complete.
Giving more options to families when a loved one needs help
Our mental health laws can be complicated. The state tries to balance the rights of individuals while still ensuring people get help when they are a threat to themselves or others due to a crisis. Sometimes families feel the need to have a loved one treated—but a mental health provider disagrees. We have a law that allows families to petition the court to review the decision if they really feel a mental health provider is wrong, but the process isn't common knowledge or easily accessible.
In order to make the process more transparent, I introduced a new bill that would require require that families be provided written information about the process to petition a court to review this decision. Courts will still have to review the information and make sure someone isn't being unfairly detained, but for families that need help navigating the process, this will help them keep their loved ones safe. I'm happy to report the House passed my bill 97-0 and I hope the Senate will agree and pass it up to the Governor.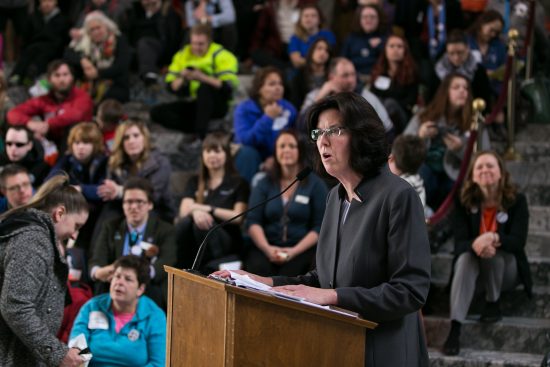 Telephone Town Hall and Coffee with Christine
I'm pleased to announce my first telephone town hall will be held on Tuesday, February 21 at 6:00 p.m. You may receive a call to join the conversation but if not, you can call-in via the information below.
When: Tuesday, February 21 at 6:00 p.m.
How to call in: Call 877-229-8493 and use the pin number 116283
But if you would rather have a face-to-face conversation, I'm hosting my first "Coffee with Christine" chat which will be held on Saturday, February 18 at Espresso By the Bay (1203 Rainier St, Steilacoom, 98388) from 10:00 a.m. to noon.
I'm also going to host at Starbucks in DuPont (1225 Center Dr, DuPont 98327) on February 25 from 10:00 a.m. to noon and Cutters Point in University Place (2700 Bridgeport Way G, University Place, 98466) on March 4 from 10:00 a.m. to noon.
I hope to see you there!
Keep in touch!
I hope you're finding these weekly updates helpful. If you have any thoughts or questions or comments about anything at all, please contact my office via my contact information above. I would love to chat.
Thanks,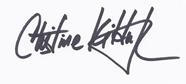 ---