Education Funding
As we continue to work towards fully funding education, the House passed legislation that delays the "levy cliff" which you may have heard about in the news. The bill, HB 1059, gives assurances to school districts that their budgets won't be cut before we pass an education funding plan. The "levy cliff" bill is now in the Senate waiting for a vote.
In a hearing Monday, we were both able to pose questions highlighting the problematic aspects of the Senate Republican plan for students in the 34th district, and all of Washington.  We want to make it clear to our colleagues across the aisle that solving the education funding problem should not mean lowering our expectations of what fully funded education looks like. The House Democrats proposed funding plan, HB 1843, would preserve local control of public schools, increase funding in the classroom, provide more professional development for teachers, and explores new revenue generating options to reduce reliance on local levies without putting the burden on working families.
---
Responding to the executive order on immigration
On the national stage, Trump's executive order restricting entry into the United States for refugees and immigrants who originate from certain Muslim-majority countries has been the subject of much discussion in the House. The Democratic Caucus has been discussing strategy on how to combat unnecessary acts that target innocent people based on their religion or country of origin.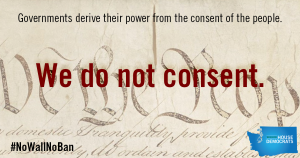 In Washington State, we enjoy world-renowned businesses that employ a workforce that includes immigrants. They contribute to our state's economy, our technology, agricultural, educational, and medical sectors. In a meeting last week with a class of students from Denny Middle School, we discussed the impact of this discriminatory order on our own district. These students expressed their fear and frustration at this divisive order that targets their families and neighbors, especially as so many in our community originate from Somalia, or practice Islam.  We share these emotions, and want to reaffirm to our constituents how proud we are to represent so diverse a district, as well as our commitment to defending the rights of all. For these reasons, we support the lawsuit filed by Attorney General Bob Ferguson challenging President Trump's discriminatory religion-based ban.
We signed a letter from the House and Senate Democratic Caucuses that asks President Trump to comply with federal court orders addressing this issue. Further, we support HB 2030, prohibiting discrimination on the grounds of citizenship or immigration status, and HB 1956, prohibiting a state agency from assisting the federal government in assembling a database of individuals based on religious affiliation. As we move forward, please stay in conversation with us on how best to protect and advocate on behalf of our constituents.

---