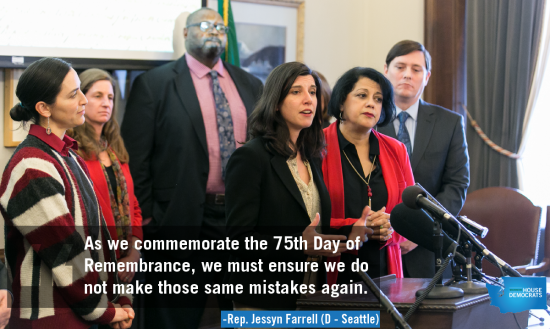 February 19th marks the 75th anniversary of when President Franklin Roosevelt signed Executive Order 9066. This action sent 120,000 men, women and children of Japanese ancestry to internment camps within the United States. Most of the internees were United States citizens or legal residents. This shameful period in American history is commemorated each year in the state House of Representatives with the Day of Remembrance.
It's important to ensure our nation never again makes the terrible mistake of failing to uphold the constitutional and civil rights of all people. That's why I was proud to be part of a press conference that took place yesterday, February 15th, in which House and Senate legislators talked about the bills we are moving to protect all Washingtonians. These bills were introduced in response to recent presidential executive orders. They include  HB 1988, which creates a new legal proceeding authorizing a court to appoint a guardian for certain immigrant youth who have been abandoned, abused or neglected; HB 2029, which would provide a hotline for those seeking information and assistance for immigration and citizenship related matters; and HB 2097, which would limit disclosure by state or local government agencies about the religious affiliation of individuals.
All three bills are scheduled for executive session in the House Judiciary committee today. I am hopeful they will come before the full House, and I will be proud to vote in favor of them.
---