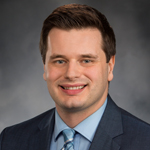 OLYMPIA – Rep. David Sawyer, D-Parkland, has been appointed to the Washington State Gambling Commission. The Commission acts as the licensing, regulatory and enforcement program for gambling within the state. It is the second-oldest gambling regulatory agency in the nation.
"The gambling industry has an important place in Washington's economy, and the Commission protects the public by ensuring gambling is fair and honest," Sawyer said. "It's an honor to serve and I look forward to working with the commissioners."
Sawyer replaces former state Rep. Chris Hurst, who retired from the legislature last year. He also chairs the House Commerce and Gaming committee, which covers issues relating to the regulation and oversight of gaming, as well as regulation of commerce in alcohol, tobacco and cannabis.
---