Water rights and the Hirst decision
A recent Washington Supreme Court decision has thrown the building permit process into chaos for some landowners seeking to build on land with permit-exempt wells. The court held in Whatcom County v. Hirst that counties need to make their own determination that water is legally available instead of relying on the Department of Ecology's rules which aren't always updated and don't always do enough to make sure there is enough water to go around.
This is a problem. There are landowners, counties, and businesses who have had the rug pulled out from underneath them. I believe that we can protect the environment and ensure our waterways are maintained, while still allowing for development in rural areas. I'm considering all the options and voted to send two possible plans forward so we can continue the debate.
Two of my colleagues, Rep. Larry Springer and Rep. Derek Stanford, have put forward plans. Neither plan is perfect, but both attempt to fix the problem and reduce the economic harm to our rural communities.
HB 1885 (Rep. Springer's bill) would overturn the Hirst decision and allow local governments to rely on Ecology rules to show availability of water, allow mitigation that improves habitat but doesn't necessarily replace water, and directs the Department of Ecology to establish a water mitigation programs if permit-exempt wells have substantial impacts on waterways.
HB 1918 (Rep. Stanford's bill) provides a 5-year transition period for counties to issue mitigation permits while the counties implement mitigation permits. The bill also allows building permit applicants in the process of building during the Hirst decision to be grandfathered in, and creates mitigation tools to ensure water availability. It also gives counties some authority to collect money for cost of water rights and mitigation, and allows alternative water resources to replace water taken out.
It's a very complicated issue but one we must solve this legislative session in order to balance the building and developing needs of rural communities with the environmental benefits of making sure there is enough water for fish to survive. Doing nothing will harm many families and rural communities, some still recovering from the Great Recession and struggling with the loss of rural jobs.
---
Last week's Telephone Town Hall on Blanchard Forest
It was great to be able to sit down with my seatmate, Rep. Jeff Morris, and a representative from the Department of Natural Resources to discuss ways to preserve a great local wilderness area. We spoke about the current situation and the need to preserve the forest from timber harvest, while at the same time maintaining revenue for county and local school districts. Rep. Morris and I also spoke about a potential land swap idea to preserve Blanchard while still generating revenue.
One other issue we discussed was Rep. Morris' legislation to rename Blanchard after a local activist and former legislator who spent her career protecting Chuckanut, Blanchard, and Lake Whatcom forestland. His proposal would honor our friend Harriet by renaming Blanchard the "Harriet A. Spanel-Blanchard State Forest."
---
Supporting commercial fishing
Commercial fishing is important to the 40th LD. For many families and rural areas, commercial fishing is a large part of their economy and we need to make sure that there continues to be access and opportunity for commercial fishing. In 2015, Department of Fish and Wildlife asked people around the state to provide feedback on the successes and the shortcomings of the Department. What they heard from the commercial fishing industry is that maintaining and enhancing fisheries is vital to Washington's economy and our communities.
I am supporting a proposal that will improve commercial fishing by streamlining dealing, buying, and selling requirements. The proposal also changes the fees and fee structure to better reflect the cost of providing the opportunities to our fishing industry that is needed for commercial activities.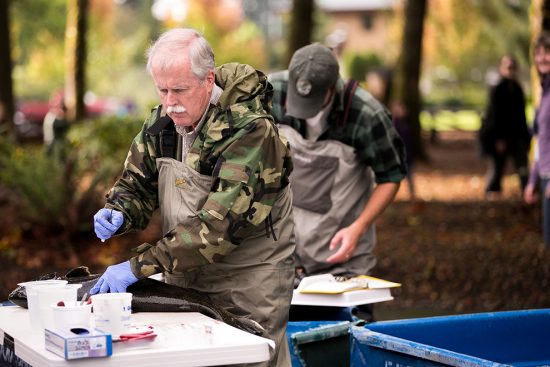 ---