Town Hall Next Weekend
Join your 30th District representatives, Rep. Mike Pellicciotti and myself, for our first town hall meeting on Saturday, March 11 from 10:00 a.m. to 12:00 p.m.
We'll be speaking with constituents at the Federal Way Senior Center (4016 S. 352nd St, Auburn) and we'd love to see you there and listen to you on what is happening in our local communities and at the state level. Hearing from you, your story, is our top priority for this town hall.
Both of us are excited at the opportunity to give you an update on the status of the legislature's efforts on fully funding education, public safety, uniformed service members and veteran programs, and our efforts to bring jobs to the South Sound region.
Mark your calendar for Saturday, March 11, and we'll see you there!
---
Civic Engagement in the Legislature
---
I made a short video to share my experience witnessing the passion of Washington state residents coming to Olympia and advocating for health care, fully-funding education, housing affordability, and more. Please take a look!
---
Protecting the dignity of Gold Star families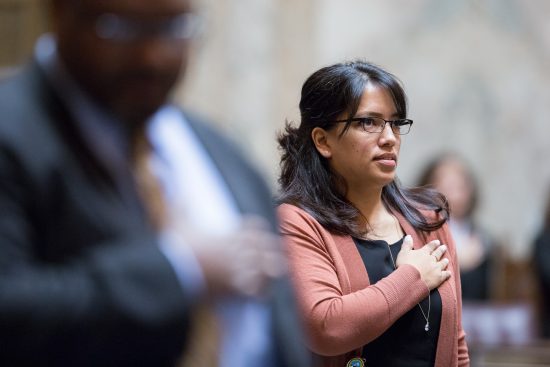 For the family members of Armed Forces members who die as a result of service to their country, the state and federal government offer benefits to help. One such benefit is the Gold Star license plate, which is free of charge for one vehicle to the widow or widower. Unfortunately, there are those who would prey on these surviving spouses for financial gain.
A state resident brought this issue to me. She had experienced harassment in grocery store and daycare parking lots because some people would see that license plate and think there was a way to profit off of her grief. These people prey on our Gold Star widows and widowers and we need to take care of those military family members.
I sponsored HB 1320, which allows Gold Star widows or widowers to receive standard Washington state license plates free of charge for one vehicle, to protect their Gold Star status from public view and avoid harassment. The bill passed the House yesterday with a unanimous vote of 98-0. I hope the State Senate will agree this is necessary and pass it as well.
---
Contact me
I hope to see you next weekend! If you aren't able to make it, please feel free to contact my office with any questions or comments. I'd love to hear from you.
Thank you,

SHARE ON: