Happy centennial JBLM!
It was a great moment on Friday when three members of our Joint Base Lewis-McChord (JBLM) family, Colonel Timothy King, Sergeant Major Kenneth Breeding, and Director of Department and Veterans' Affairs 'Alfie' Alvarado-Ramos, joined the House to recognize the 100-year anniversary of JBLM. We were honored to have them and adopted a resolution recognizing this amazing anniversary. Afterward, I had a chance to chat briefly with these outstanding servicemembers and thank them for their service to our great country.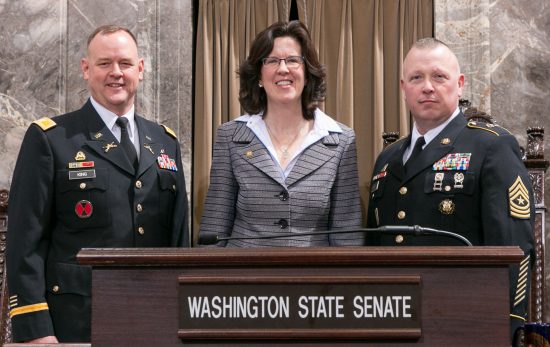 ---
Priority legislation: What has passed the House?
This week is our "House-of-origin cutoff' which means bills have to be approved by Wednesday in order to be considered by the Senate. Below are some of my priority bills that have passed so far:
Adjusted training requirements to help families with Developmental Disability needs / HB 1322
Families who have loved ones with developmental disabilities are on-call 24 hours a day. The training requirements to get another family member or friend qualified can be an impediment. This bill changes training requirement for family members, neighbors, or friends who occasionally (under 300 hours a year) care for someone with developmental disabilities to get more respite care providers qualified.
Updating and improving the child support economic table / HB 1603
The child support economic table, which determines how much child support is owed during family law proceedings, has not been updated since 1987. The Child Support Workgroup developed a new table rooted in sound policy that would update how a child support obligation is calculated.  This legislation will bring our child support laws into the 21st century and make sure kids have the resources they need.
Pro bono legal services for military families / HB 1055
When a servicemember is facing a legal dispute but deployed overseas or a veteran is seeking benefits at home, it's often not easy or feasible to hire a lawyer. Under this legislation, the Attorney General's Office will serve as a clearinghouse to connect veterans and military servicemembers with free legal services.
Consumer protections for our military service members / HB 1056
Sometimes our military servicemembers have to break contracts like gym memberships or cable TV when they're given orders and have to move. Our servicemembers don't have a choice; when they are told to go, they go. It's not fair to make them pay extra costs for amenities the rest of us get to enjoy. This bill gives them extra consumer protections so they can terminate contracts without penalty.
Allowing family members a way to help get treatment for their loved ones / HB 1162
One tool families have in getting loved ones mental health care is the ability to petition the court for review of a decision to not commit someone to a mental health facility. Too many families are not fully aware of that option. This bill would require designated mental health professionals to document that they have informed family members about the process to petition for court review. We should do everything we can to make sure family members understand their rights when it comes to the mental health treatment of loved ones.
---
Town Hall this weekend and Coffees with Christine update
Please come to the town hall I am hosting with Rep. Dick Muri this Sunday, March 12th. Doors open at 4:00 PM and we'll be discussing issues of importance down in Olympia and across our state and answering questions from you! We will be at Steilacoom Town Hall, 1717 Lafayette Street, Steilacoom, WA 98388.
In addition, I wanted to thank everyone who came out to the "Coffees with Christine" I held around the district in University Place, Steilacoom, and DuPont. It was great to see many of you there.  We were able to have some thoughtful and deliberate conversations about the direction our district and our state is going. I appreciate having you join me and I look forward to future meetings.
---
28 Seconds for the 28th District!
I have started a new video series called "28 Seconds for the 28th!" where I break down a single issue we're working on in Olympia, in 28 seconds or less. My first video is below, take a look!
---
Thanks,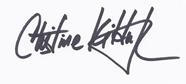 Christine
---