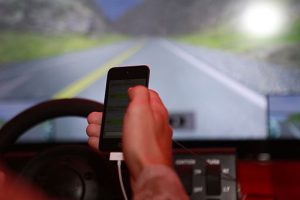 OLYMPIA – Legislators in the state House of Representatives voted today to advance legislation that strengthens current distracted driving laws and supports law enforcement protecting the public from dangerous habits behind the wheel.
Rep. Jessyn Farrell, D-Seattle, has pushed the Driving Under the Influence of Electronics Act, saying the law has to reflect how people actually use their electronic devices today.
"This bill is about saving lives," Farrell said. "We love our phones, and we are just not putting them down. This bill updates our current laws so our police officers can enforce those laws and our roads can be safer for everyone."
The Driving Under the Influence of Electronics Act prohibits the operation of a phone or other personal electronic device while driving if it requires more than one finger. This means even if the device isn't held up to the ear, it can no longer be held and operated in one hand. The bill also increases the fine for distracted driving, nearly doubling it for repeat offenses. A repeat distracted driving citation would be reported to a driver's insurance company, potentially triggering a rate increase.
Public testimony in the House Transportation committee included heart-wrenching stories by family members of loved ones whose lives were lost due to distracted driving-related accidents. These types of deaths have risen sharply in the state since 2014.
"This is about increasing public safety. Statistics show we are going in the wrong direction when it comes to fatal and serious injury collisions," said Washington State Patrol Chief John R. Batiste. "Distracted driving is one of many factors that contribute to tragedies on our roadways.  I am encouraged by the level of community support this bill has received."
The bill number is HB 1371. It now heads to the Senate for the consideration.
The Seattle Times also published an article on today's passage of the Driving Under the Influence of Electronics Act.
---