"Wounded Warrior Shared Leave Act" passes House!
As you know, doing right by our uniformed servicemembers and our veterans is one of my top priorities in Olympia. That's why I'm thrilled to be able to share that the House passed my legislation, the "Wounded Warrior Shared Leave Act," on Thursday with a unanimous vote. Both Democrats and Republicans came together and agreed that this is the right thing to do.
Here's the problem I'm trying to solve: For new state employees, standard practice is to start employment in a six-month probationary period. If the employee is a transitioning servicemember, that probationary period means they are not eligible for paid leave. For uniformed servicemembers, that means a doctor's appointment or appointment at Veteran's Affairs would require taking unpaid leave.
As someone who has spent nearly a decade working to ensure that our servicemembers and their families transition out of the military and into meaningful employment in the private sector, it seems only right that as a major employer, our state is more than "veteran friendly,' it has to be "veteran ready."
My solution: The "Wounded Warrior Shared Leave Act" (HB 1802) allows servicemembers, veterans, and their spouses to access a shared leave pool immediately upon employment with the state.
I'm very happy to see such broad bipartisan support and hope to be able to report back to you if the Senate moves the bill forward and on to the governor's desk.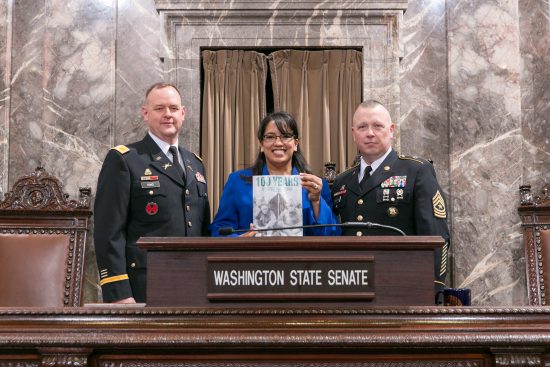 ---
Don't Forget: Town Hall this Weekend!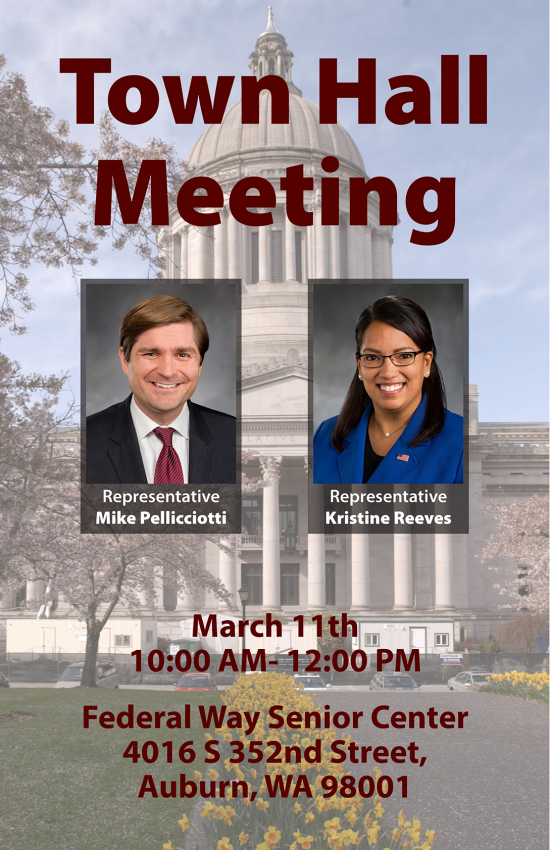 Please plan to join Rep. Mike Pellicciotti and me for our first town hall meeting this Saturday, March 11 from 10:00 a.m. to 12:00 p.m. at the Federal Way Senior Center (4016 S. 352nd St, Auburn)
We want to hear from you and your perspective on what is happening in our local communities. We also want to share the status on priority legislation.
We hope to see you on Saturday!
---
Contact me
If you aren't able to make it to the town hall this Saturday, please feel free to call, email, or write my office. I'd love to hear from you.
Thank you,

---