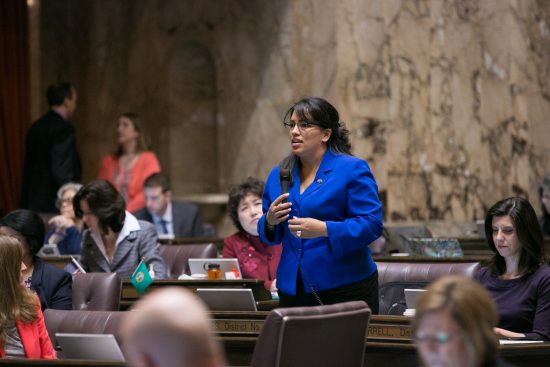 OLYMPIA – While Washington schools faced $358 million in budget cuts, including nearly $8 million alone to Federal Way schools, bipartisan effort to pass the "levy cliff" bill moved the policy forward on Wednesday and Thursday. Failure to pass either the House or Senate version of the legislation could have forced school districts to write budgets for the upcoming school year that included teacher layoffs or cuts to education spending.
"I'm incredibly proud to have cast my vote, once again, to ensure every child has the opportunities to learn that they deserve," said Reeves. "While it took longer than it needed to, this proves that if we work together, both sides can find common ground and an equitable solution to our problems. Now let's apply that to the education funding plans and find a compromise that puts our kids first."
The House passed its version of the "levy cliff" bill as the first bill off the floor in January. Both the House and Senate versions languished in the Senate without indication they would move forward until late Wednesday. Negotiations between the minority-caucus Senate Democrats and majority-caucus Senate Republicans late in the day brought the Senate version of the bill (ESB 5023) to the floor and passed the Senate 48-1. The next morning, the House met and voted 87-10 to send the bill to the Governor for his signature.
Federal Way Schools Superintendent Dr. Tammy Campbell praised the levy cliff extension: "Federal Way Public Schools is thankful that the legislature has passed the levy extension bill, eliminating the uncertainty of planning for the 2017-18 school year and the potentially negative impacts of losing millions from our operating budget.  We now look forward to both houses working collaboratively to provide a solution to fully funding basic education as outlined in the McCleary ruling."
The "levy cliff" bill extends temporary levy provisions for one year and avoids a $358 million cut to local schools. It serves as an insurance policy that guarantee no cuts to school budgets while the Legislature continues to work on an education funding solution.
###
---