36th legislative district town hall recap
This past weekend, your legislators from the 36th district held a town hall meeting to hear from our constituents. For those of you who joined us, thank you. We had incredible turnout. Over 400 residents showed up to talk about issues facing the state legislature this year. It is clear, residents of the 36th legislative district are active and engaged.
In case you were not able to make it, I have included a link to some information about my legislative priorities. These include making college course materials more affordable, helping homeless kids, and ensuring workers get the pay owed to them.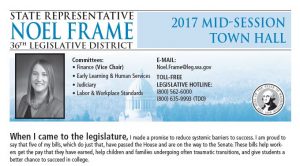 "House-of-origin" cut-off
Last week also marked the "house-of-origin" cut-off for the 2017 legislative session. To keep you informed; I have included a video discussing these priorities, and our efforts to fully fund education.
Legislative Update from Rep. Noel Frame
---
Thanks again,

Noel Frame
---