Focusing on children, youth and families
Right now, services for children and families span several state agencies, and no one agency has responsibility for improving outcomes for children and youth. Too many children are falling through the cracks of our child welfare systems. That's why House Democrats voted to pass House Bill 1661 out of the House earlier this week. The legislation builds on the success of the Department of Early Learning and merges multiple departments serving children, teens and families into a single agency that emphasizes prevention and is accountable for improving outcomes for children and families.
The best time to reach children and youth who are most at risk of factors linked to negative outcomes later in life is before a crisis occurs. The Department of Children, Youth, and Families will help to shift focus away from providing a service during a crisis and instead provide a continuum of effective services that help kids thrive throughout their childhoods and beyond.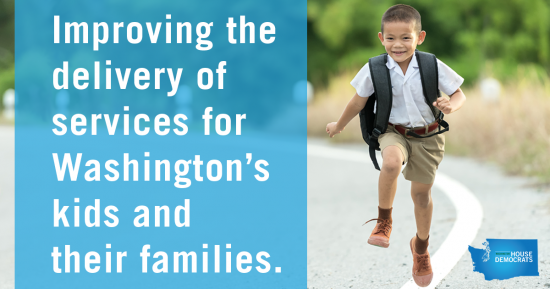 House of Origin Cutoff
To keep things moving along, there are a series of deadlines that bills must meet in order to continue through the legislative process. One of those deadlines is House of Origin Cutoff. In order to survive this deadline, House bills must be passed out of the House and sent to the Senate and vice versa for Senate bills.
The House of Origin cutoff deadline officially passed on Wednesday, March 9, at 5 p.m. With some exceptions – primarily bills that are necessary to implement the budget – the House will now be turning its attention to legislation our Senate colleagues have passed to us.  Senate bills are being referred to House committees, and the next few weeks we will be busy with more public hearings.  Over in the Senate, they'll be doing the same thing, holding hearings on bills we have passed to them.  Remember, you can sign up for email updates from committees so you can keep up with what is happening in your state legislature. You can also look up specific legislation or search to see what bills I've introduced when you search by sponsor.
House approves bill strengthening state's distracted driving law
We love our phones and just can't seem to put them down. But deaths due to distracted driving are rising sharply in our state – particularly among younger drivers – and our laws haven't kept up with how people use personal electronic devices. Texting and driving is already against the law, but it's not illegal to check Facebook while driving.
Last week, the House passed HB 1371, which prohibits operation of a phone or other personal electronic device with more than one finger while driving. This means even if the device isn't held up to the ear, it can no longer be held and operated in one hand. It also increases the fine for distracted driving, nearly doubling it for repeat offenses. A repeat distracted driving citation would be reported to a driver's insurance company, potentially triggering a rate increase.
A similar measure also passed the Senate last week. Now each bill will be considered by the opposite chamber. Proponents are pushing to get one of them all the way to the governor's desk for signature this year, and help make our roads safer for everyone.
---