Hello Friends & Neighbors,
We are just over half way through the 105 day legislative session, and I wanted to take a few minutes to give you an update on what is happening in Olympia.
Bills I'm watching.
While I am the primary sponsor on 33 bills this legislative session I am also invested in the great work done by my colleagues by cosponsoring other pieces of legislation. Here are some of the bills I'm keeping my eye on as they move through the process.
State Government, Elections, and Information Technology:
As the chair of the State Government, Elections, and Information Technology (SEIT) Committee, I have been working hard on bills relating to elections, cybersecurity, and technical changes requested by state agencies. We voted 47 bills out of the SEIT Committee – the 3rd highest among the 15 policy committees.
Washington Voting Rights Act
The Washington Voting Rights Act (HB 1800) would allow systemically disenfranchised communities to challenge local electoral processes in state court after a six month negotiation period. After being voted off the House Floor on February 27th, the WVRA is now in the Senate State Government Committee for the fifth year in a row.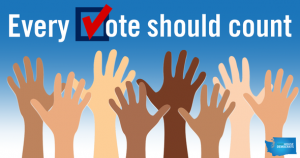 Elections bills
The SEIT Committee works towards expanding access to the democratic process, including:
·  HB 1468, which would move the voter registration deadline for new voters from 29 days to 11 days before an election;
·  HB 1513, which would allow 16- and 17-year-olds to pre-register to vote.  
Cesar Chavez Day
HB 1939, which would recognize March 31st as Cesar Chavez Day, was first suggested to me by a Meadowdale High School student in 2014. HB 1939 was voted off the House Floor for the third time this week.
Cybersecurity
I sponsored a package of cybersecurity bills this session aimed to make state government more prepared for the increasingly common and serious threat of cyber-attacks. These include:
·  HB 1417 and HB 1829, which would create cybersecurity-related exemptions to the Open Public Meetings Act and the Public Records Act, respectively; and
·  HB 1929, which enables the military to test cybersecurity systems upon request by local governments or private entities.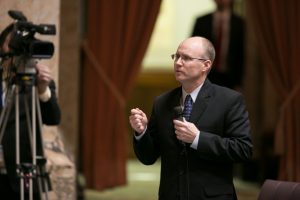 Agency request legislation
This session, I've worked with and sponsored legislation at the request of the Secretary of State, the Office of Financial Management, the Lieutenant Governor, the Attorney General, the Department of Labor and Industries, the Chief Information Officer, the Department of Ecology, and the Joint Legislative Systems Committee.
Education bills:
Last week the House of Representatives voted to approve HB 1843, the House Democrats' effort to make sure every child receives opportunities to learn. As a reminder, 1843 is only a spending package designed to meet our court ordered education funding requirement. We are still designing and working on the needed funding. Now that each side has offered proposals, negotiators will work on a path toward compromise that will ensure public schools are fully funded for Washington's one million school kids.
If you would like to receive periodic updates specifically about education issues, please send an email to alice.maclean@leg.wa.gov and we will add you to our separate education list.
---