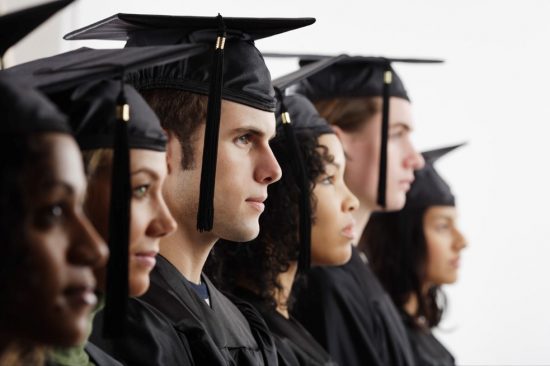 OLYMPIA—How can we create jobs in rural counties with persistently high unemployment?
Rep. Mike Chapman (D-Port Angeles) says part of the answer is greater access to higher education.
"This is about revitalizing timber country and farm country," Rep. Chapman said. "Research tells us one year of education beyond high school is the tipping point for people to get family wage jobs. We also know local businesses need workers with advanced skills. This legislation brings those two things together."
Roughly a third of all jobs are predicted to be what's referred to as mid-level—more than a high school degree but less than a four-year bachelor's degree. And by the year 2020, experts say 70 percent of all jobs in Washington state will require at least some college education.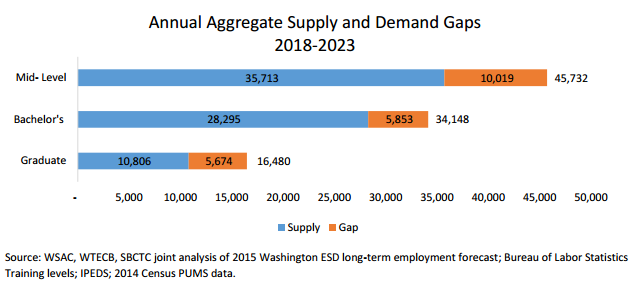 "A one-year degree or certificate is the best possible investment in our small towns and counties," Rep. Chapman said. "Those mid-level jobs are a ticket to the middle class, the kind of job that lets you buy a house and has benefits like health care and retirement."
A report by the state's Workforce Training Board listed examples of mid-level jobs in high-demand fields, including firefighters, auto and diesel mechanics, law enforcement, machine tool technicians, teaching assistants, early childhood educators, accounting and computer science.
House Bill 2177 would offer the free year of tuition for high-demand fields in small counties (population of 80,000 or below) with an unemployment rate greater than 8 percent or a median wage of under $18 an hour.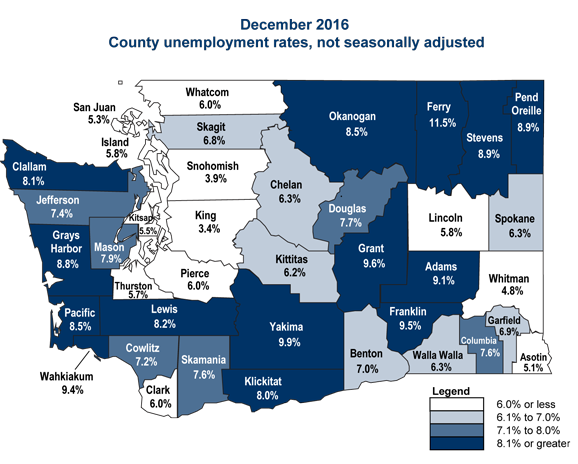 County
Population (2016)
Unemployment rate (Dec '16)
Median wage (2015)
Adams
19,510
9.1%
$16.57
Asotin
22,150
5.1%
$16.84
Chelan
75,910
6.3%
$15.97
Clallam
73,410
8.1%
$18.52
Douglas
40,720
7.7%
$15.92
Ferry
7,700
11.5%
$18.73
Grays Harbor
72,820
8.8%
$18.81
Klickitat
21,270
8.0%
$18.74
Lewis
76,890
8.2%
$19.46
Okanogan
41,730
8.5%
$14.56
Pacific
21,180
8.5%
$17.69
Pend Oreille
13,290
8.9%
$22.19
Stevens
44,100
8.9%
$18.65
Wahkiakum
4,000
9.4%
$20.32
Walla Walla
60,730
6.3%
$17.29
Total
595,410
State average*
7,183,700
5.2%
$23.15
* State data is preliminary, and seasonally adjusted.  County rate is not seasonally adjusted.
---