OLYMPIA – The "Families First" budget passed by House Democrats on Friday, March 31, meets the state's constitutional obligation to fully-fund K-12 and includes critical investments in programs and services that benefit the children and families of Washington state.
"Sick, hungry and homeless kids can't easily and effectively learn, no matter how impressive our public school system is," said Rep. Vandana Slatter (D-Bellevue) during her remarks supporting the budget. "Investing in all our kids, in their good health and their success at school is putting families first."
The House Democratic budget fully funds basic education, with an investment of an additional $7.1 billion over the next four years. That investment would address the teacher shortage and compensation crisis, as well as provide funding to services that improve student success, such as the Learning Assistance Program, parent engagement coordinators and guidance counselors.
In addition to funding K-12 education, the House Democratic budget makes key investments in other programs and services that ensure children show up to school ready to learn, such as early learning and children's mental health.
The budget also provides support for young adults and their families by freezing tuition for all college students at community and 4-year colleges, making a significant investment in both computer science education, and expanding the State Need Grant program to 6,000 more low-income students.
Additional investments proposed in the House Democratic budget include funding for critical human services, housing and homelessness, civil legal aid, and quality care for Washington's aging population and people with developmental disabilities.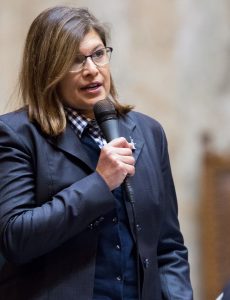 ---