As chair of the Finance Committee, a former school board member, and a mom, I know how important it is we fully fund education for the 1.1 million schoolchildren in our state. Unfortunately, due to our upside down tax system that asks more of middle class and working families than the wealthiest among us, we have lost our ability to fund schools, mental health and health care programs, and every other service the state is supposed to provide.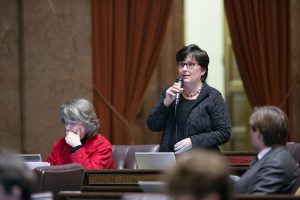 We ask far too much of our small businesses. They are overburdened under our regressive tax code. With low profit margins, small businesses pay the same tax rate as high grossing corporations. Often, those corporations receive special tax breaks that small businesses don't receive. It's an unfair system that must change.
I'm proud to offer a plan that helps to rebuild a strong middle class and promote prosperity for all Washingtonians. The House Democratic plan improves our tax code by making the system a little fairer. Here are the highlights:
A reduced Real Estate Excise Tax for property valued under $250,000, with a progressive rate that increases tax only after property is sold for over $1 million;
Closing the tax break on capital gains, which benefits just 1.5% of Washington tax filers. Our proposal will exempt retirement accounts, single-family homes, and agricultural and livestock;
Small business tax relief for businesses. Under this proposal, all businesses with taxable income under $500k would get a tax break and all businesses under $250k would pay no business & occupation tax at all;
Closing costly tax breaks that benefit corporations and out-of-state interests;
Ensuring fairness in the marketplace by leveling the playing field for Washington businesses who have to compete with out-of-state online retailers; and
Going after the underground economy that undercuts and hurts Washington contractors and taxpayers.
In order to put families first, we have to fix our tax code. We're never going to have a sustainable budget as long as we're asking working and middle class families to bear the bulk of the burden to pay for schools, early learning programs, mental health services, and other important state services, while we let powerful interests get away with paying the least.
---
Thank you for the honor to serve you,


---